About a year ago I made some major changes in my child care environment to give it a Reggio-Inspired feel. Throughout the process I did a LOT of research online and made a HUGE list of ideas to revisit and incorporate as time and money allowed.
One of the things I fell in love with were Waldorf Hand Kites. aka Ribbon Rings, Hand Kites, Wind Wands, Hand Streamers, you get the idea.
Etsy has a ton of Waldorf Hand Kites for sale, but being a DIY (do it yourself) sort of girl I looked at them and thought "I can make that myself!"
So I did.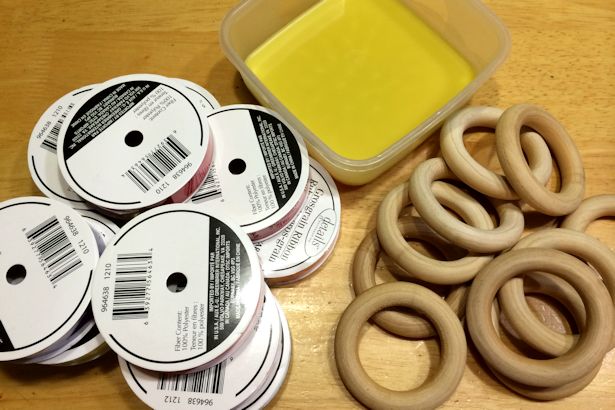 Obviously I needed to find ribbons and wood rings, both of which I wanted to find as cheaply as possible. Our local Dollar Tree LOVE that place! had rolls of ribbon for $1 each, so I bought 2 of each color. I found wood rings on Etsy – listed as "imperfect" and priced lower because they weren't as smooth as "first quality." I figured I could sand them in front of the TV at night.
At first I was going to leave the wood rings unfinished, but I remembered seeing a recipe for homemade beeswax and olive oil wood finish, and since I had both ingredients I decided to whip up a batch.
Through trial and error I discovered that the easiest way to apply the finish was to put the ring into the paste and turn it around so the entire outside was covered. Then I spread the paste with my fingers until the whole ring was coated. After all the rings were done I set them aside to dry for one to two hours.
Easy peasy!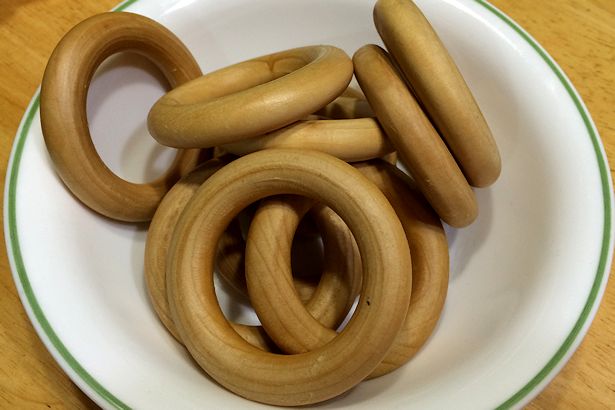 The wood finish makes the wood glow, smells great, and left my hands super-smooth. I think I may use this to spruce up any and all wood toys in the playroom!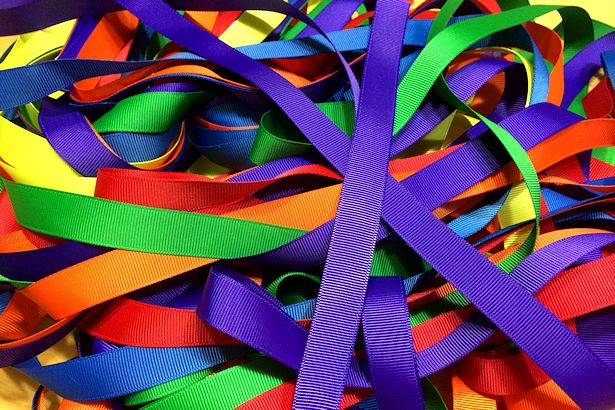 While the rings were drying I started on the ribbon. I wanted to make six rings so I had to do some math to figure out how long to cut each piece of ribbon. Once I had that set I started cutting!
My ribbons trail about 25″ from the ring, which I think is a great length – long enough to stream dramatically but not too long for my kiddos. When you measure your ribbon be sure to include extra length for the knot!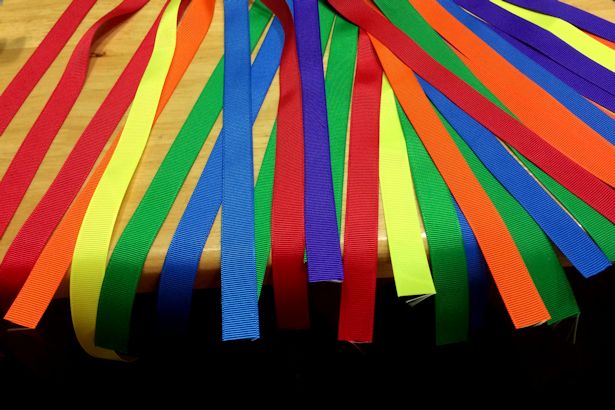 As soon as I started cutting I realized that I had a problem – grograin ribbon frays. To be honest, grograin ribbon wasn't my first choice, but for $1 per spool I wasn't going to complain!
I Googled "How to Keep Ribbon from Fraying" and found two suggestions: lay the end on a hot electric stove element, or melt the end with a match.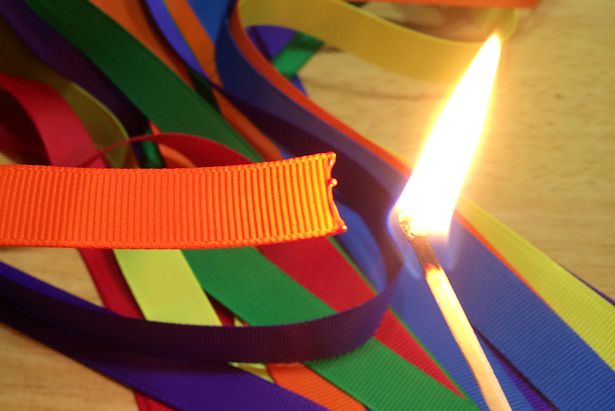 I tried the stove trick first but it didn't work so I pulled out the matches. I quickly learned that the ribbon ends need to be close enough to melt, but not so close that it burns. I also learned that burned grograin ribbon STINKS!
All done!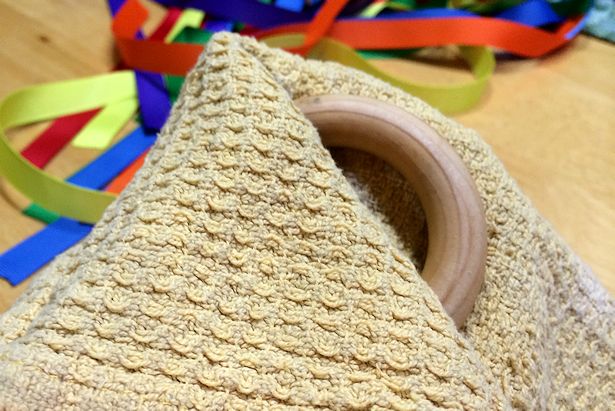 When an hour was up no way did I have patience to wait two hours I rubbed the rings with an old washcloth to remove excess finish.
Aren't they pretty?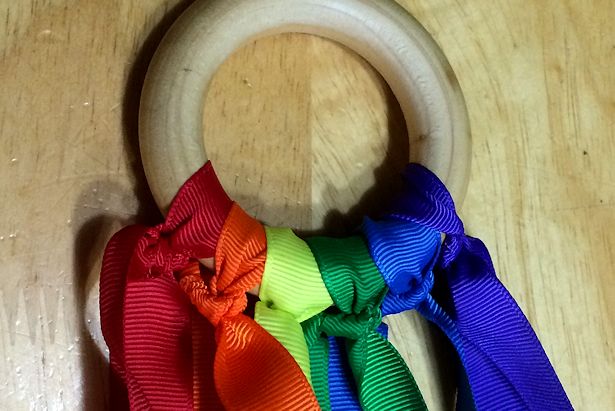 I tied the ribbons on very tightly. I'd thought about sewing the ribbons close to the ring, but realized that tied ribbons would stream better and be easier to switch out if one got ruined or something.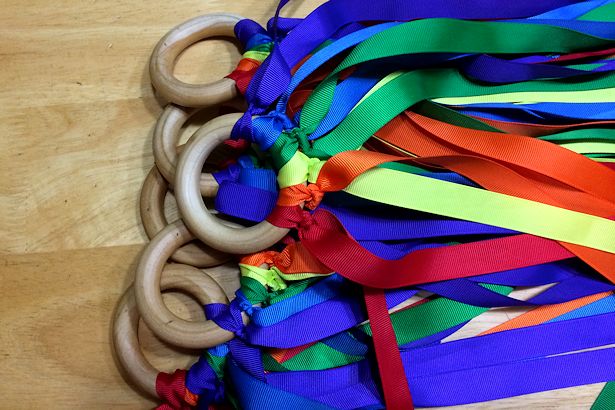 Here are my six Waldorf Hand Kites. I love them!
Each Hand Kite cost me under $4.00; the rings were $1.55 each, and there's about $2 worth of ribbon on each Hand Kite. Since I already had olive oil and beeswax I didn't include them in the cost, but they'd only add pennies more.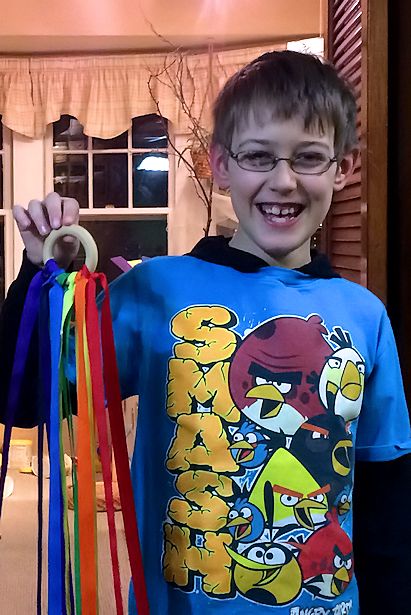 Even at nine years old Z-Man thinks they're pretty cool.
I can't wait to see what the kiddos think of them tomorrow!