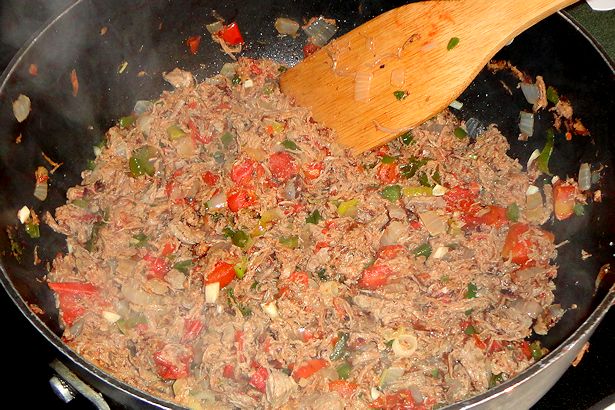 I don't come from a family of hunters. My brothers don't hunt, my dad doesn't hunt, and if either of my grandpas hunted they did so before I knew them. I don't remember ever eating venison as a child.
Teacher doesn't hunt but his dad does, so he grew up having venison whenever his dad got a deer. His mom made venison chili, venison burgers, venison spaghetti sauce, and pretty much anything else you'd make with beef. Their favorite way to make it was to cut the venison into bite-sized pieces and fry them in a fondue pot of hot oil.
Cowboy comes from a hunting family. Cowboy and the menfolk in his family like to hunt so much they go "out west" to hunt different kinds of critters than what we have here in Wisconsin.
Cowboy also comes from a generous family. He knew that Teacher likes venison, so when he bagged two or was it three deer this past fall he offered some of the venison to Teacher.
As much as I love Cowboy shhh, don't tell him; I have a reputation to maintain I'm not a big fan of venison and usually dread any venison-based dinner. As much as I try, I can't get past the gamey taste it leaves in my mouth and end up chewing and swallowing as quickly as I can to get it down. I'm the same way with goat cheese – it tastes furry to me, no matter how it's prepared.
Lucky for me Teacher is a great cook and has learned how to tenderize venison and eliminate most of the gamey taste. He did such a great job with these Venison Flautas that when Cowboy tasted them he didn't know what meat he was eating. Now that's impressive!
Of course, it's a Rick Bayless recipe, and originally calls for beef so don't worry if you have a venison-deprived freezer.
Venison Flautas aka Northern-Style Shredded Beef with Tomatoes
You can find this recipe in "Authentic Mexican" by Rick Bayless. This recipe is amazingly versatile and is amazing in flautas, tacos, chimichangas, and by itself.
Venison Flautas – Ingredients for 4 servings
1 pound lean, boneless venison or beef chuck, flank or brisket, trimmed and cut into 1 1/2″ pieces
1 teaspoon salt
1 medium white onion
3 cloves garlic, peeled
3 tablespoons vegetable oil
1 15 ounce can tomatoes, drained and chopped We like Muir Glen fire roasted tomatoes
2 large green onions, roots removed and chopped into 1/4″ pieces
2-3 serrano or 1-2 jalepeno chiles
1/2 teaspoon salt
12 corn tortillas, preferably thin store-bought ones
1 1/4 cup vegetable oil, for frying
Mexican queso fresco, crumbled, for garnish
Mexican crema or sour cream thinned with a little milk, for garnish
Chopped cilantro, for garnish
Venison Flautas – Directions
These are basically Rick's directions in my own words. For the original recipe and great commentary I strongly recommend you buy the book.
1. Cook the Meat. Bring 2 quarts of water to a boil, add the meat and salt. Skim off any greyish foam that develops in the first minutes of cooking. I recommend you don't let your kids see you do this or they won't touch the finished dish with a ten-foot pole. Slice half the onion and add it to the pan. Cut 1 clove of garlic in half and add one half to the pan also. Partially cover and simmer until the meat is tender; 45 minutes to 1 1/2 hours. Let the meat cool in the broth. Strain the liquid and spoon off any fat that rises to the top. Set aside. Finely shred the meat and set aside.
2. Make the Filling. Dice the remaining onion and mince the remaining garlic. Heat the vegetable oil in a large pan; when hot add the onion and shredded venison or beef. Fry, stirring, until browned; about 8-10 minutes. Turn the heat down and add the garlic, tomatoes, green onions and chiles. Cook, stirring frequently, about 4 minutes. Stir in 2/3 cup of the reserved broth, then simmer 10-15 minutes or until the liquid has evaporated. Season with salt, and it's ready for tacos, enchiladas, flautas, or whatever!
3. Assemble the Flautas.Let the tortillas dry out in a single layer for a few minutes. Heat 3/4 cup of the vegetable oil in a skillet over medium-high heat. When hot, quick-fry the tortillas to soften them; drain well on paper towels. Place 2 tablespoons venison or beef filling down the center of a tortilla and roll up, using toothpicks to hold it together. Cover while you assemble the rest of the flautas.
4. Fry the flautas. Add the remaining 1/2 cup vegetable oil to what's in the pan and heat. When hot, lay in several flautas. Fry, turning occasionally, until all sides are crispy and light brown. Drain on paper towels and keep warm in a low oven. Garnish with queso fresco, crema and cilantro.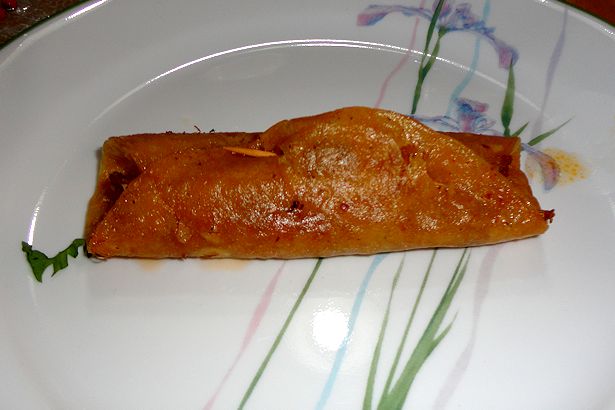 Enjoy!
Our venison flautas were accompanied by Mexican Shrimp Ball Soup and Pineapple Margaritas. The whole meal was amazing!