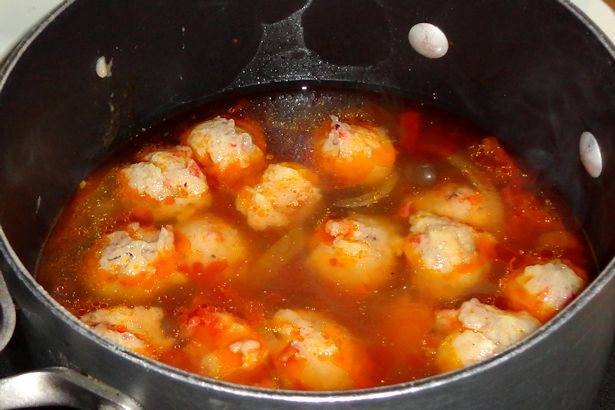 *snicker*
Sorry. I know it's juvenile, but I can't help it. Every time I think "Shrimp Ball Soup" I can't help thinking "I didn't know the little guys had those."
Forgive me, I'll try to restrain myself.
Teacher decided to make Shrimp Ball Soup *snicker* Sorry. to go along with our Pineapple Margaritas.
The whole time Teacher was cooking I bit my tongue so I wouldn't say anything inappropriate about shrimp balls *snicker* in front of the boys, thus ensuring that we'd be subjected to never-ending comments and wise-cracks about shrimp balls.
Luckily the soup was fairly quick and easy to make. Quick and easy – my cooking mantra!
To be honest, I expected the broth to be fishy or "shrimpy" – like that "off" scent that sometimes wafts towards you from the grocery store seafood counter, but it wasn't at all! It reminded me of a not-creamy lobster bisque; sweet and rich and "seafood-y" but not overly so. The shrimp balls were tender and flavorful; lighter than any crab cake or meatball I've ever had, but not too soft or mushy. Just thinking about it makes me want some!
Shrimp-Ball Soup by Rick Bayless
The recipe is from another Rick Bayless cookbook, Authentic Mexican, and is officially called "Shrimp-Ball Soup with Roasted Pepper and Tomato".
One of the best things about Rick's cookbooks is extra commentary surrounding each recipe: rich background information, engaging stories, tips and tricks, traditional and modern variations, etc. I think Authentic Mexican offers the best "extra" commentary – it's almost more of a novel about Mexico's culinary traditions with some great recipes thrown in than a cookbook. According to Rick, this recipe is a combination of several recipes found in various Spanish publications.
Shrimp Ball Soup – Ingredients for 4 Servings
8 oz shrimp, peeled, deveined and well chilled (so they won't mush when you chop them)
1/4 cup small onion, very finely chopped
1/4 ripe tomato, cored, seeded and finely chopped
1 large egg yolk
2 Tbsp flour
1/4 tsp dried oregano (we used Mexican oregano)
1/2 tsp salt (or more to taste)
1 Tbsp vegetable oil
1 small onion, thinly sliced
1 medium fresh chile poblano, roasted, peeled, seeded, and sliced into thin 1″ long strips
1/2 15oz can chopped tomatoes, well drained (we like Muir Glen fire roasted tomatoes)
4 1/2 cups fish broth (we found organic "seafood broth")
3/4 tsp salt
1/4 cup roughly chopped cilantro
1-2 limes, quartered
Shrimp Ball Soup – Directions in My Own Words
For the official directions and commentary, buy the book!
Set aside 4 shrimp as garnish; refrigerate until step 3. Finely chop the rest of the peeled and deveined shrimp, either by hand or in a food processor. They should be the consistency of a coarse paste. Place in mixing bowl and add chopped onion, tomato, egg yolk, flour, oregano and salt. Mix thoroughly; cover and refrigerate until step 3.
In a large saucepan, heat the oil over medium heat. Fry the sliced onion until just brown – about 7 minutes. Add the chile strips and canned tomato, and fry for 3-4 more minutes. Stir in the broth, bring to boil, then cover and simmer 15 minutes. Add salt.
About 15 minutes before serving, poach the set-aside shrimp in the simmering broth. Drop in rounded tablespoons of the chopped shrimp mixture and simmer 8-10 minutes. Then remove from heat.
Ladle into bowls, garnishing each with a whole shrimp and chopped cilantro. Serve with lime wedges on the side, to be squeezed into the soup just before eating.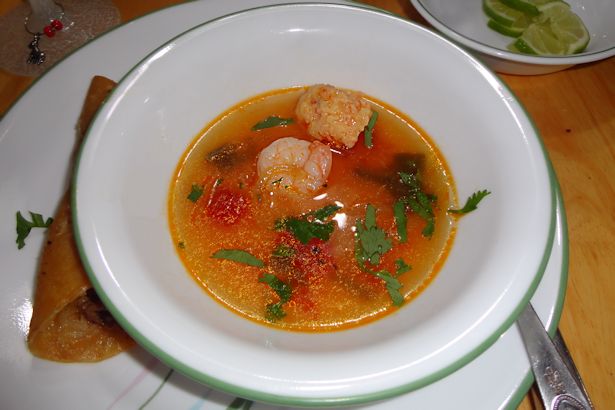 Enjoy!