A while ago Princess and I decided to stop getting the Target Beauty Boxes because we weren't thrilled with the products and had collected SO many samples we really didn't need more. But a couple of weeks ago she messaged me a photo of the March beauty box and said "I'm seriously considering getting this one. It looks good this month!" I replied "Yeah, except the dry shampoo. Maybe I'll get one too." We went back and forth and realized that we each wanted different things so we could split a box.
I was REALLY excited to get the Beauty Box because we hadn't gotten one for so long and it'd been months since my last Walmart one, so I was REALLY disappointed when Princess texted me "They cancelled our box!" Apparently there was a problem with the address on file, even though it was the same address all our previous boxes had come to.
We were both really bummed, but what can you do? I know, #firstworldproblems, right?
Then last week she got an email from Target saying that our Beauty Box order had shipped. Wait, what? They said the order had been cancelled by mistake and since it was their error they were sending it to us for free. Oh Happy Day!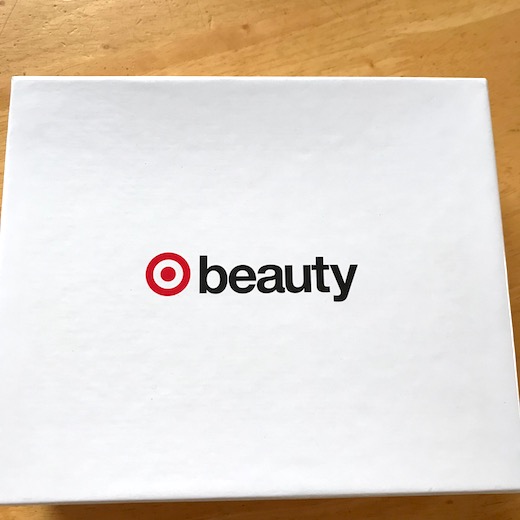 It arrived a couple of days ago – Oh Happy HAPPY Day!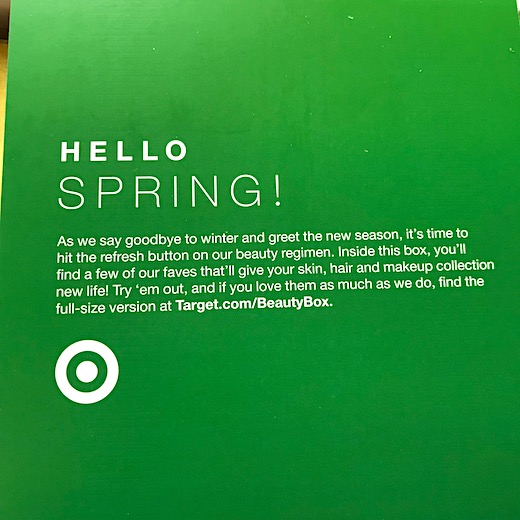 Do you want to see what's inside?
Silly me, of course you do!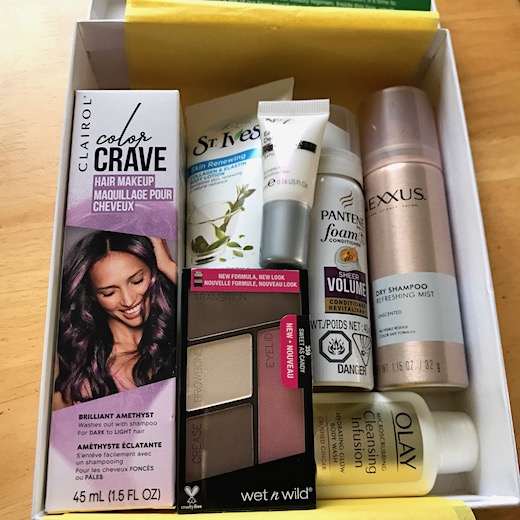 See – it's chock full of goodies! Can you guess which ones Princess picked and which ones I picked? You might be surprised…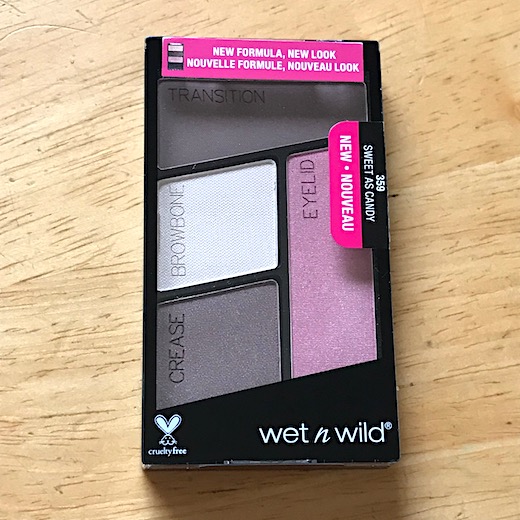 Wet & Wild Color Icon Eyeshadow Quad "Whether you're a makeup pro or beginner, no makeup kit is complete without this Wet n Wild Color Icon Eyeshadow Quad. Wet n Wild came back with some of the shades you know and love, this time in reformulated eyeshadow quads. This easy-to-blend eyeshadow palette features four buttery shades ranging from mattes to shimmers, clearly labeled to help you create your own custom look. Sweep one shade from lashline to brow bone for a simple look, or go for glam and mix and match all four — however you decide to sport these shades, you're sure to look beautiful."
You may have guessed that Princess claimed the eyeshadow, but I did! I was a little disappointed because I thought the rose shade was purple, but the rose is pretty too. They're actually shades of brown, not grey, but I can't adjust the photo to get the colors right. Check out Target's photo to see the true colors. The shadows go on and blend easily but don't last all day on me. Overall I think they're just as good as other comparably-priced eyeshadows. I'm thinking of buying the purple palette for fun.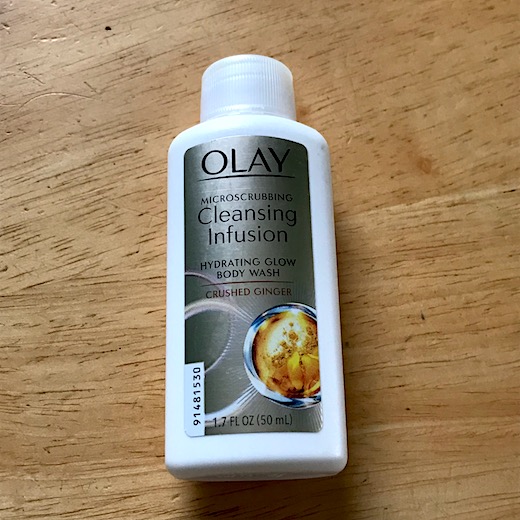 Olay Cleansing Infusion Natural Glow with Crushed Ginger Body Wash "Redefine clean with Olay Micro scrubbing Cleansing Infusion Hydrating Glow Body Wash with Crushed Ginger. Our exclusive formula infuses a non-stripping cleanser with our best biorenewing hydrators to actually improve your skin's condition as you wash. The creamy lather draws out surface dirt and impurities without drying the skin, while exfoliators renew skin's texture. Our unique hydrating ingredients act more like your skin's natural lipids to renew skin's surface from within. Skin is left feeling smooth, clean and hydrated, so skin's surface reflects light for a natural glow."
I grew up in the "Oil of Olay" era so I always associated the Olay brand with "older" women. But their new products, like this body wash, are beginning to change my mind. I like it more than I thought I would – the scent is fantastic and it makes my skin really soft and smooth.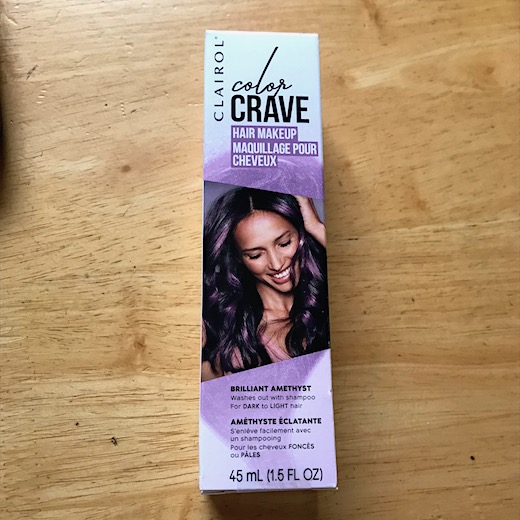 Clairol Color Crave Hair Makeup "When you want to switch up your hair color without a permanent application, reach for the Color Crave Hair Makeup from Clairol®. This temporary hair makeup puts a little luxe in your locks — all under your control. Shimmering hair makeup provides stunning results visible on any hair color, even the darkest brunettes. Change your mind or your mood? No problem, as this hair makeup washes away easily with shampoo. With no ammonia, peroxide parabens or commitment, there's no reason to not flaunt your locks."
I'll bet you think this one is mine, but Princess claimed it. She just dyed her hair blue-black and I can't wait to see what it looks like with purple in it! I think everything is better in purple.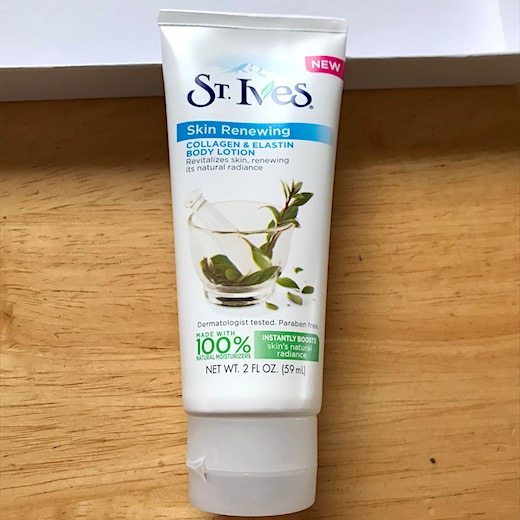 St. Ives Skin Renewing Collagen Elastin Body Lotion "Youthful skin is always in! Wrap your body in this rich, renewing lotion for beautiful, supple skin. Made with 100% natural moisturizers (soybean oil and plant based glycerin) this non-greasy lotion absorbs quickly to give your skin a helping hand in times of need. Be sure to layer on once a day, and your skin will thank you for it. Who knew soybeans had natural moisturizing properties? Well we did actually. That's why we put it in our lotions. Soybean oil is a real smoothie, gliding onto the skin and soaking right in."
This was another product on Princess's "Want" list. I'm a long-time fan of St. Ives lotion so I didn't need a sample to convince me that it's great.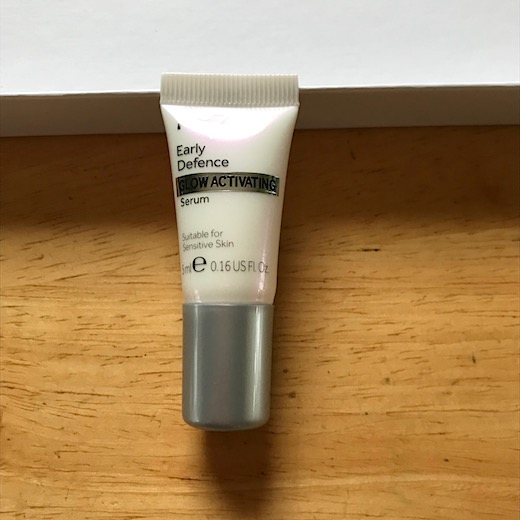 No7 Early Defence Glow Activating Serum "Find your glow in 7 days with NEW Early Defence GLOW ACTIVATING Serum from the UK's #1 skincare brand, No7. Early Defense GLOW ACTIVATING Serum, with Ginseng and Vitamin C boosts skin's natural renewal process to clear and refine pores for a glowing complexion. This powerful formula also supports your skin's natural defenses, calming skin's reactivity to stress and protecting by neutralizing damaging free radicals caused by the sun & pollution."
This was another product I really wanted. I've only used it a couple of days so I haven't noticed any "glowing" but it definitely makes my skin softer and smoother. I'm going to keep using it to see if the brightening claims are true.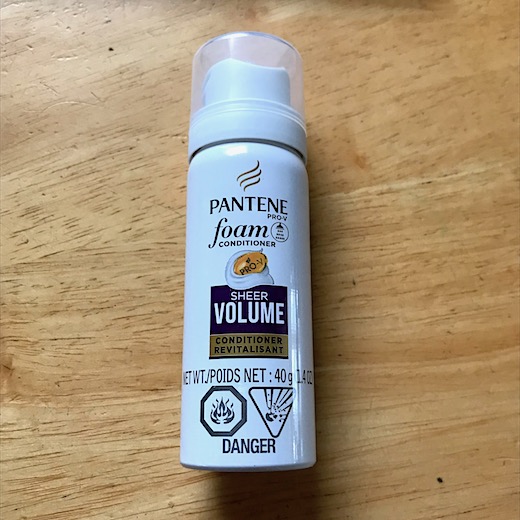 Pantene Sheer Volume Foam Conditioner "Volumize every strand with the air-light nourishment of Pantene Pro-V Sheer Volume Foam Conditioner. Infused with Pro-V nutrients, this breakthrough in-shower formula boosts strands for 24 hours without the weigh-down of traditional cream conditioners. Just shampoo, rinse, condition hair with the totally weightless texture of this foaming conditioner and rinse again. Light enough for everyday use."
I haven't decided whether to try this or let the boys use it. My hair gets frizzy so I have better luck with "smoothing" products rather than volume-boosting ones. It smells good, so it's got that going for it.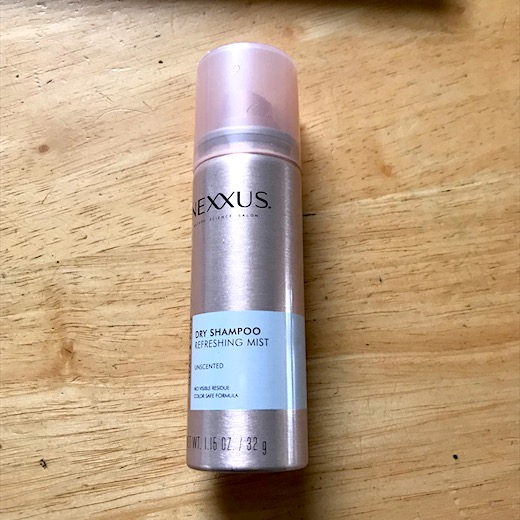 Nexxus Clean & Pure Refreshing Mist Dry Shampoo "Nexxus DRY SHAMPOO Refreshing Mist weightlessly cleanses hair in between regular washes, providing refreshing volume and fluidity. This lightweight formulation extends the life of voluminous styles."
Like I've said before, I'm not a fan of dry shampoo. So even though I like Nexxux products in general, it wasn't hard to let Princess have this one. Besides, the term "voluminous" in reference to my hair is usually not a good thing – it's like when someone says "she's got a great personality" or "she means well."
So that's the March 2018 Target Beauty Box! I'm definitely glad we got it this month, and will be taking a peek at the April one to see what it looks like.
I won't ask how many products you guessed right on, but you can post your total if you want.