Teacher was lucky enough to grow up in Grand Haven. College Boy, Princess, Angel Face and I were lucky enough to live there for four years before moving here. We enjoyed everything the small touristy town had to offer, like a gazillion different pizza and ice cream places, several gorgeous public beaches, and my favorite – glimpses of Lake Michigan while driving through town. Sigh, sooo pretty! Although I'm very glad we moved to my home town I really, really miss living in Teacher's home town too.
Friday night we had the van all packed and the kids ready so we could take off right after I was done with work. The drive only took 7 hours this time, instead of the hellish 8-9+ hour trips we'd had occasionally. For the most part it was pretty uneventful, although while driving through southern Wisconsin we were excited to see that Wisconsin Energy's windmill "farm" was bigger than the last time we'd seen it. Go wind power!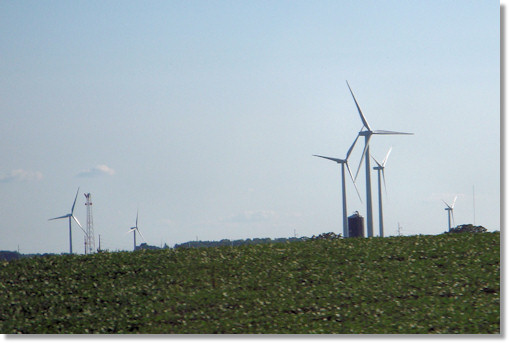 Another bit of excitement was when Teacher tried to take photos of the Chicago skyline by balancing the camera on the steering wheel while driving at 65-70 mph. Yikes!! I wasn't thrilled with that stunt, to put it mildly. I can't show you the photos cuz they're on his camera and he's not sharing. Besides, I don't want to encourage him.
We arrived at Grandma and Grandpa's house around 1am Grand Haven time, and fell right into bed. Z-Man and Little Guy were overwhelmed by their first long car trip, the grandparents they didn't know well, and the unfamiliar house so they both had to sleep with Teacher and I. Good thing Teacher's parents gave us their king size bed! It made me want to sing "Ten in the Bed" but I refrained and enjoyed cuddling with Teacher and the boys instead. Little Guy's favorite sleeping position is with his head on my neck and his feet in Teacher's face, so poor Z-Man ended up squished in the middle. He didn't wake up all night so I guess it didn't bother him too much! I wish I'd thought to take a photo but I was to wiped out to think of it at the time.
Saturday we decided to visit some of our favorite Grand Haven places, hitting the downtown sidewalk sales and boardwalk along the way. Our very favorite toy store ever, Mackinaw Kite Co. was our first stop. It's packed with Brio trains, toys and games that foster creativity, and about a gizillion amazing kites and gorgeous banners. Teacher bought me two new banners: a Welcome one with flowers and one with the Grand Haven and Holland lighthouses on it. Here it is at our house – the top one is the Grand Haven lighthouse. I can almost smell the lake just looking at it.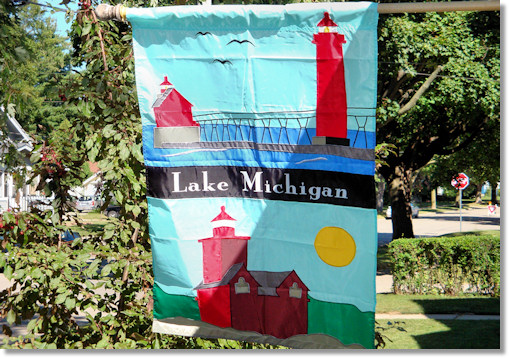 We browsed our way down Main street, "splurging" on a pair of $4.00 Croc knock-offs for the little boys. Z-Man had wanted a blue pair for his birthday but we couldn't find anything but black in his size around home. He was thrilled with this pair, and of course anything Z-Man has Little Guy wants too.

Main Street dead ends at the channel so we turned left and headed for one of our favorite places in Grand Haven – Pronto Pups. Pronto Pups has the BEST corn dogs in the world: light and fluffy batter fried to a sweet crunchiness around a juicy hot dog. Yummmmmm! You can count on standing in line at Pronto Pups, the only question is how long the line will be. Today wasn't too bad; I've seen it muuuuch longer.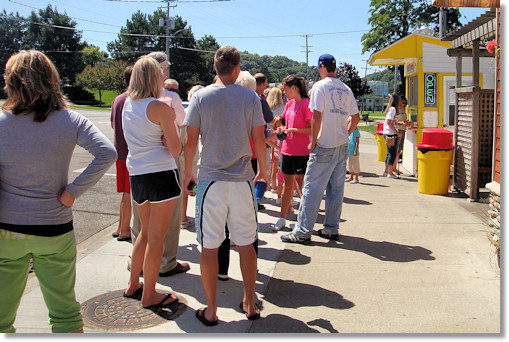 Teacher and Jo-Bear know that the wait is well worth it, no question. Princess doesn't eat hot dogs but she's such a sweetie she didn't mind waiting either.

Z-Man has a Playmobile giraffe and person to keep him occupied while he waits for his first Pronto Pup ever. I'm getting hungry for Prontos just thinking about them.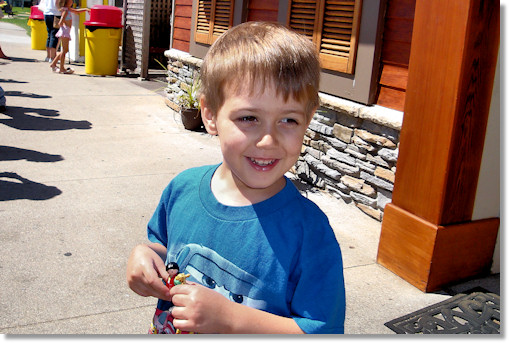 Little Guy is content to sit back in the stroller with the last of Teacher's smoothie. He likes watching cars go by, pointing each one out to us.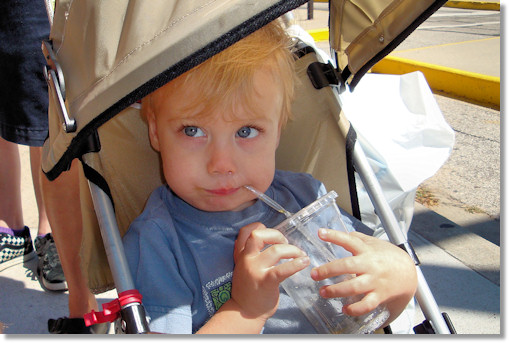 After getting our Pups we walked behind the stand to sit at one of the picnic tables on the hill. It's so peaceful with the fresh breeze coming off the lake and the sound of the seagulls and water in the background. The views are gorgeous too – can you see the light house way out on the horizon?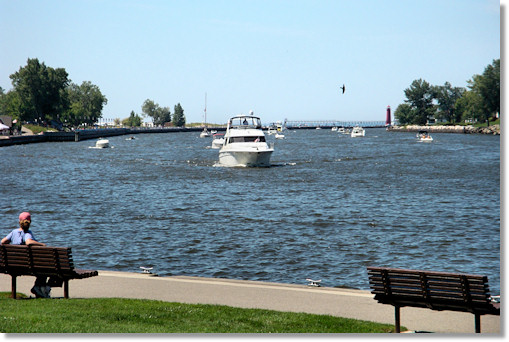 Jo-Bear isn't happy that he has to smile for a photo instead of eating his Pup. Z-Man wishes he brought his sunglasses. Life is soooo rough when you're a kid!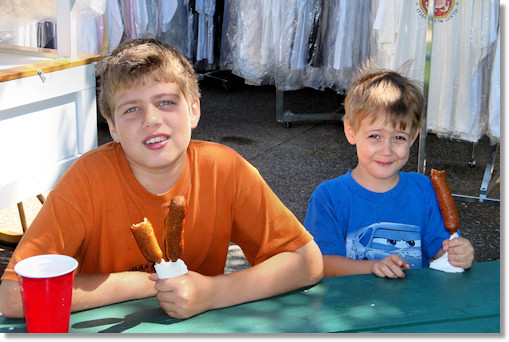 Little Guy loves his Pronto Pup, he's just sick of me taking his picture. Too bad for him – he's too cute to resist.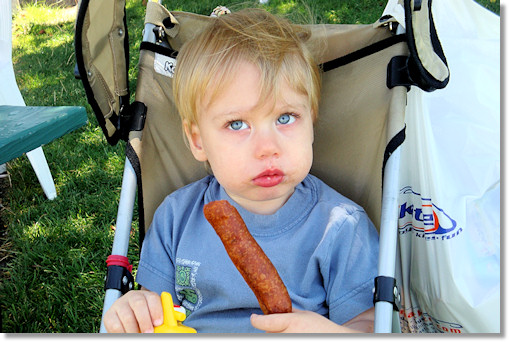 After Pronto Pups we headed back to the car, walking by Dairy Treat on the way. Of course we couldn't just pass by without getting a legendary Rockpile shake. The Rockpile was a back-door treat invented by Dairy Treat workers when Teacher was in High School. At that time the only way to get one was to go to the back door and know someone who was working. Now anyone can get one from the menu, which is less fun but still delicious. The Rockpile has so much stuff in it I can't remember everything: ice cream of course, pineapple, strawberries, chocolate sauce, peanuts, banana… I'll have to ask Teacher the rest – he'll know. I whould've taken a photo of the Rockpile so you could see all its yummy goodness, but I was too busy slurping it down.

We finished off the Rockpile on the way to the car, then headed back to Grandma and Grandpa's to regroup. Little Guy had such a big day so far that he crashed before the car had even gone a block. Good thing too, because it was only mid-afternoon and we still had the rest of the day ahead of us.
To be continued…