Each year we try to introduce the band students to a type of cuisine they may not be familiar with. Last year we had lunch in Chinatown; this year it was supper at the Parthenon. Yum – I love Greek food!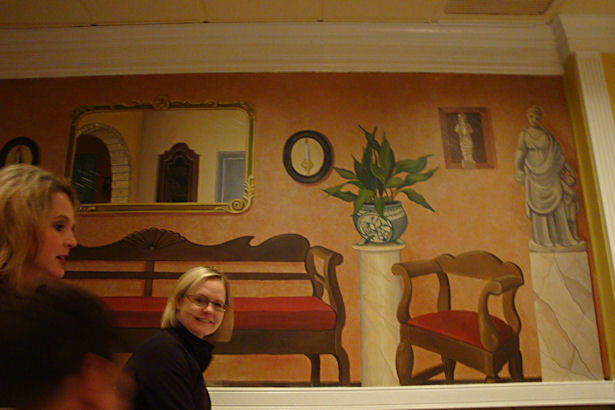 The walls of the Parthenon are painted with gorgeous Greek trompe-l'œil paintings intended to make you feel like you're at a Greek villa. They make me want to visit Greece someday – maybe that's part of the intent too.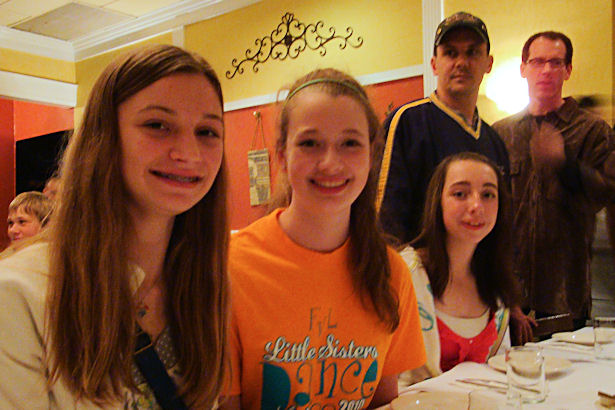 Some of "my" kids; as I consider all of the band students to be. They confessed that they were looking forward to trying the Greek food, but were nervous too. Teacher and I were looking forward to it with no reservations.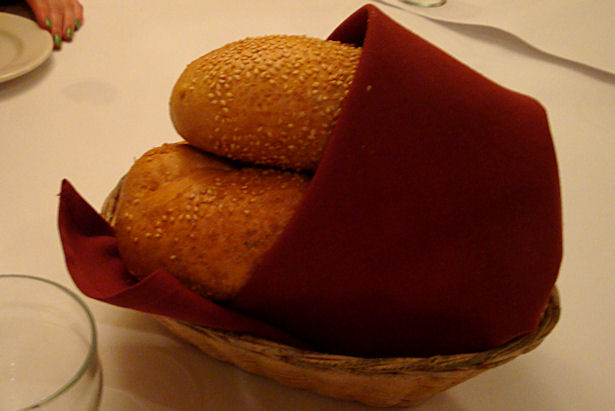 The first item to come out was this beautiful bread. I'm still trying to lose the last ten "baby" pounds from Little Guy pathetic since he's almost five I resisted the bread, but everyone else ooh'd and ahh'd over it. It did smell realllly good.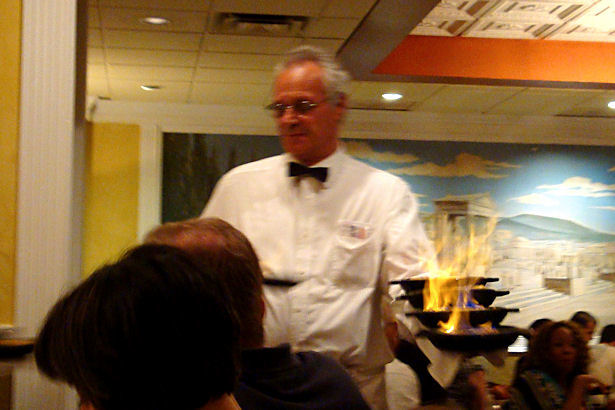 Next up was a showstopper: Saganaki. Not only were the kids impressed by the flaming cheese, most of them thought it was yummy.
Saganaki reminds me of a Wisconsin favorite: deep-fried cheese curds, except that the cheeses are different in each. Saganaki is made with kesseri cheese, while cheese curds are made from… well… cheese curds!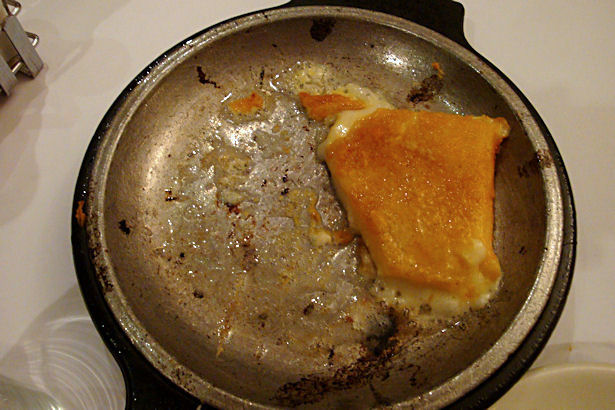 It was definitely a hit; half gone before I could snap a photo!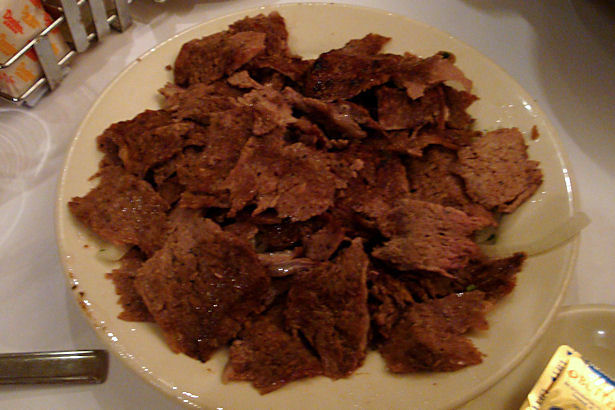 Gyro meat was next. Teacher and I expected pitas and tzatziki sauce too, but I guess it wasn't meant to be made into sandwiches because they never brought any. Not that I'm complaining; the meat alone was soooo good; rich and flavorful with a bit of crispness along the edges.
Now I'm craving Gyros for supper!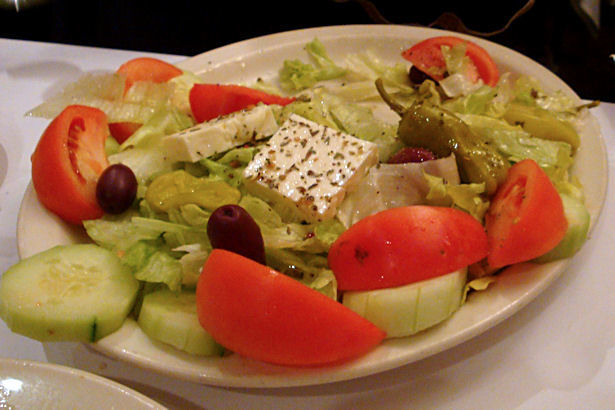 A beautiful Greek salad followed. I love Greek salad so much I could have eaten the whole thing myself then skipped the rest of dinner, but since we were being served family-style that would have been rude.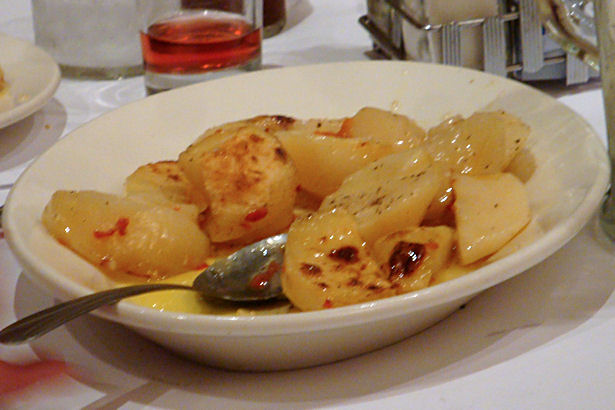 Roast potatoes arrived shortly after the salad. I've never met a potato I didn't like, but these were exceptional; cooked perfectly and full of flavor. Yum!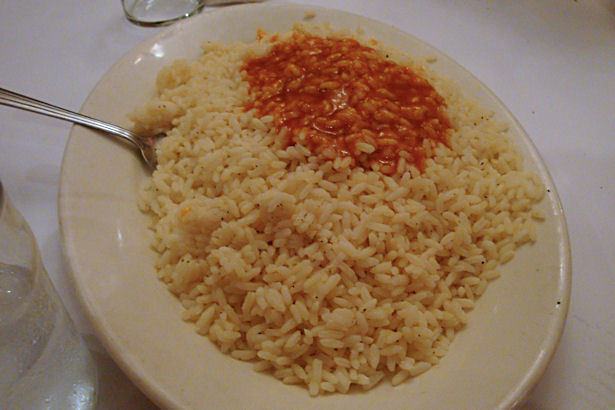 Rice and sauce followed closely afterward. Carb-lover's paradise! I appreciated how they put the sauce on one part of the rice so kids who didn't want sauce could have plain rice.
So far I didn't think we'd had anything too unusual. Sure, most of the dishes had Greek seasoning so they were slightly different and there was the Gyro meat, but I think most kids have been introduced to Gyros already.
Grilled chicken kebabs – taken off the kebab-er – were a definite favorite! I don't know how many kids ate the veggies, Teacher and I did – yum! but they sure went for the chicken.
Now we have something very Greek and probably very different for the kids: Pastitsio. I'm not fond of Pastitsio because of the texture, but I try it whenever I get a chance. I never liked tomatoes or avocado either, but I tried them and tried them, and now they're two of my favorite foods! Teacher loves Pastitsio, and is always happy to finish up whatever I don't eat.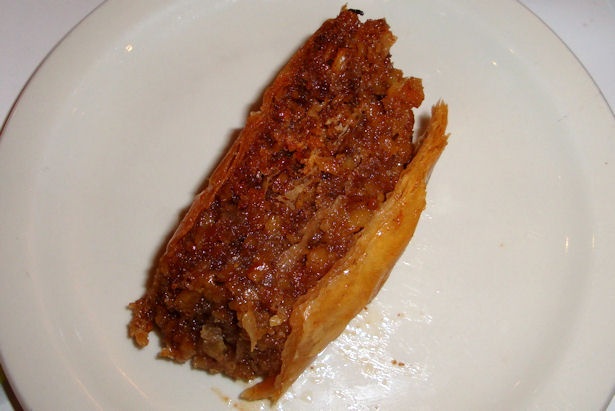 Finally for dessert is one of my very favorite foods in the whole world; baklava! Ten pounds or no ten pounds I ate every bit of my baklava and wished for more.
When we were living in St. Louis Teacher bought me a whole pan of baklava for Easter from a local Greek grocery store. You can bet I ate almost the whole thing myself.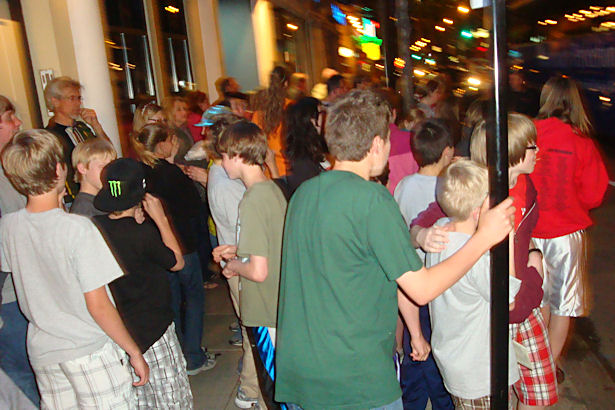 After a quick bathroom break for those that needed it, we flooded onto the sidewalk to wait for the bus.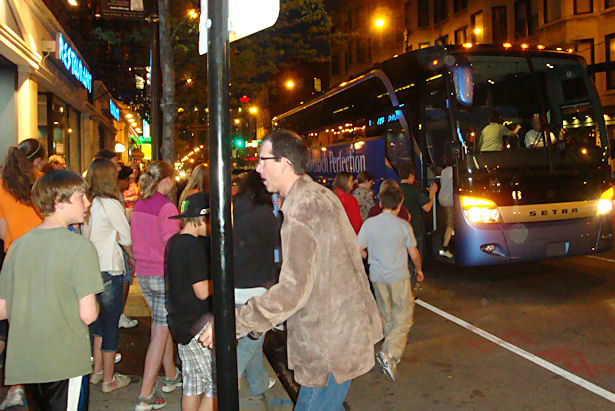 Here it is! Off to the hotel for a little swimming, then bed. The kids were still flying high, but the adults were beginning to feel the effects of the early morning and busy day.
Me included – is it bedtime yet?
To be continued…