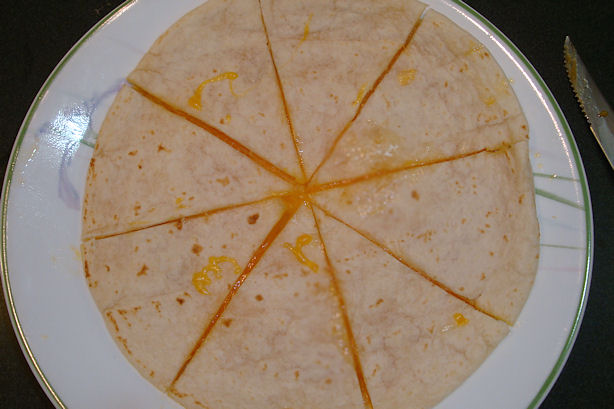 The first year we lived in Michigan we stayed with Teacher's parents. Since I didn't have a job or vehicle and Angel Face was an infant, I spent the year as a stay-at-home mom. As much as I loved being home, I was lonely while Teacher and his parents were at work and the older kids were at school.
I don't remember the exact day I met Dawn, but I do remember it was sometime in the spring. Dawn lived kitty-corner across the street from my in-laws' house and had three children close to the same ages as our kids: at six years old Sierra was in between College Boy and Princess, potty-training Dylan was a little younger than Princess, and toddler Josie was just a tad older than little Angel Face.
Dawn had a giant back yard with a trampoline, swing set, and a sand box, but that wasn't the best thing about her. The best thing was that she was just like me; she felt lonely with just her kids for company all day, and didn't mind having us hang out at her house, no matter how often we walked over. And we walked over a lot!
By the time summer vacation began the kids and I were crossing the street almost every morning. Dawn and I shared mommy-talk while our kids ran wild; exercising their imaginations as well as their bodies. When lunchtime came I usually took the kids home, but sometimes Sierra and Princess would beg to have a picnic. Dawn would usually give in and make her quick microwave quesadillas; all warm and gooey with melted cheese oozing out from the tortillas and sticking to the paper plates. We set the plates on the child-sized picnic table, then quickly retreat to avoid the stampede; there's nothing like a morning spent in the sprinkler to make kids hungry!
Sadly, when we moved into our own house our families weren't able to spend as much time together and slowly our lives drifted apart. I haven't heard from Dawn for years, but every time I make microwave quesadillas I think of the idyllic days spent in her back yard. She also made an amazing toffee bar with saltine crackers, but that's another post…
Since I've been asked more than once how to make microwave quesadillas I thought I'd share the "recipe" and directions here. It's so simple Z-Man can do it himself if the cheese is already shredded!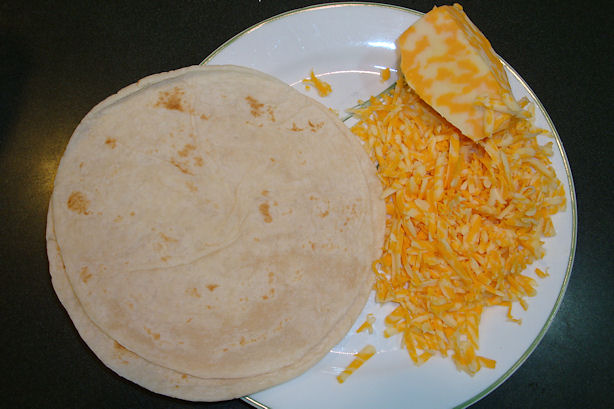 You'll need flour tortillas, shredded cheese, and two microwave-safe plates. You can use whatever kind of cheese you like; most common would be medium Cheddar, Montery Jack, or Colby-Jack, but I'll bet a baby swiss or pepper Jack would be good too.
Amounts will vary depending on the number and age of children you're trying to feed. Since I need to follow CACFP Food Program rules for daycare lunches I start with 1/2 tortilla and 1.5 oz of cheese for each child. I usually start with one quesadilla for every two children, and make more as needed.
The requirements are actually 1 oz of cheese for one to two year olds and 1.5 oz for children aged three to five, but since I have mixed ages I figure on the larger amount to make it easier. In case you're wondering, the serving size for six to twelve year olds is 2 oz of cheese and one whole tortilla.
But I digress…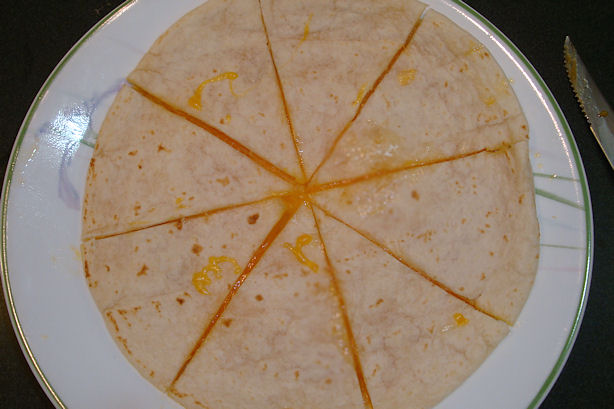 To Make Microwave Quesadillas…
Lay one tortilla on a microwave safe plate, cover with shredded cheese and lay a second tortilla on top. To make more than one quesadilla, repeat the tortilla-cheese-tortilla pattern right on top of the first quesadilla. I've successfully made four quesadillas in one stack before, but I had to squish them down to get the plate to fit. Finish by placing the second microwave-safe plate upside-down on top of the tortilla/cheese stack.
Microwave for 15-20 seconds for one quesadilla; 30 seconds for more than one. Carefully remove the plates from the microwaveyou may want to use pot holders, hold them together tightly and flip them both so the top one is now on bottom and vice versa. Microwave again for the same amount of time, then lightly poke the middle of the quesadilla to see if the cheese has melted. If it hasn't, replace the cover plate, flip, and continue microwaving at 15 second intervals until all the cheese is melted.
Cut into pieces and serve!
Quesadillas are great for using up leftover chicken, turkey, or taco meat and cooked veggies like corn, peppers or beans. You can also serve salsa, sour cream, avocado, tomatoes, lettuce, etc, on the side or on top of the cooked quesadilla.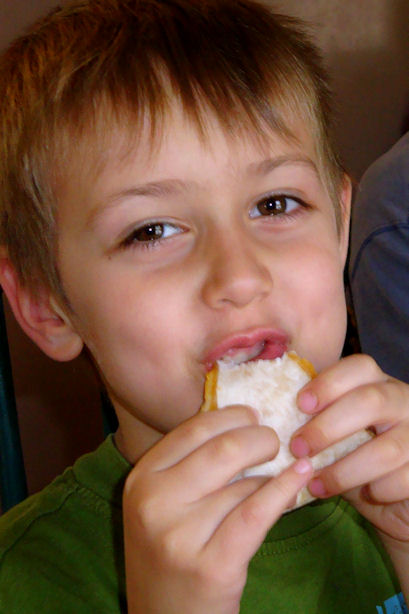 Obviously Z-Man approves!
Thanks for the great recipe, Dawn. I hope things are going great for you, wherever you are!