Winterfest is the annual fundraiser for my high school alma mater's music program. My dad was actually instrumental in starting Winterfest while I was a student there, waaaaay back in the 1980s. Yes, I had reeeeeaallly big hair. I'd post photos if I knew where any of them were. Luckily for us all, I don't.
I've always enjoyed all the Winterfest activities, but over the past few years my favorite thing has been to watch former middle school band students play. Since I've been teaching Saturday morning band for the past eight years I've either taught or worked with most of the kids currently in high school band. I'm always amazed by how much they've grown and matured, both as musicians and just in general, and hope that something I did or said contributed to their love of music.
Most of the time Winterfest sticks close to our German Lutheran roots with stereotypical German decorations, music by German composers, German-American food, root beer tent, and polka band to end the day. However this year the theme was Winter Fiesta, so the decorations, music, and food was Mexicanish and a mariachi band replaced the traditional polka band.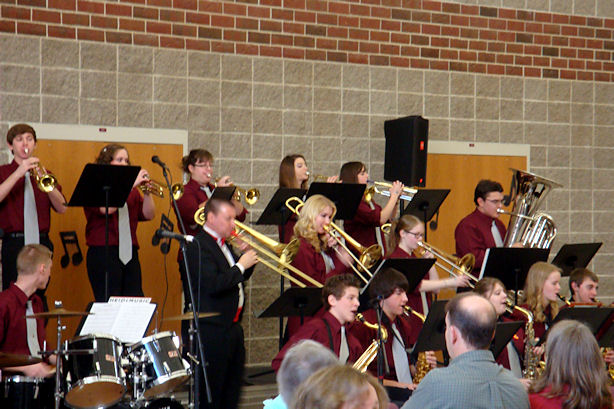 When we arrived the Jazz Band was already entertaining the lunch crowd in the commons.
Mr. N, the director, playing a trombone in a tux is loved by the kids, but more importantly, is a great teacher who won't allow his students to give less than their best. The rest of the band, except three or four kids, are past students of mine.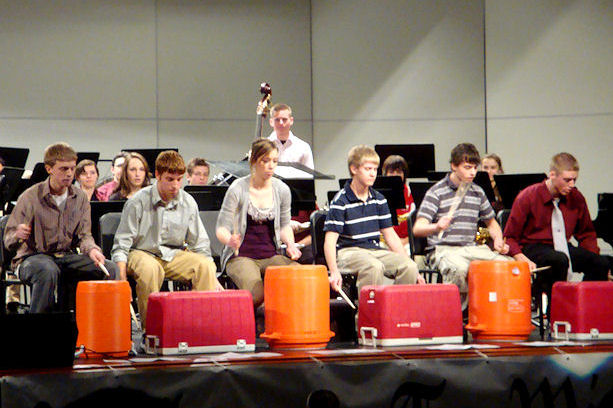 One highlight of the day was the Symphonic Band's percussion section. I've got a soft spot for percussionists, either because both College Boy and Jo-Bear are percussionists, or because I totally get their ADD, so I'm totally mesmerized whenever there's something special going on with percussion.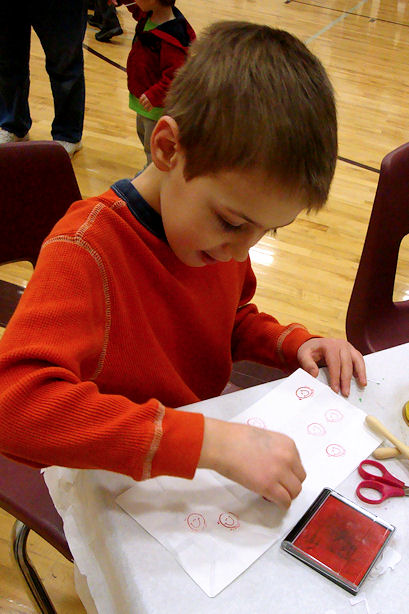 By the time Symphonic Band was done the boys were getting antsy so we took them to the small gym for the children's activities.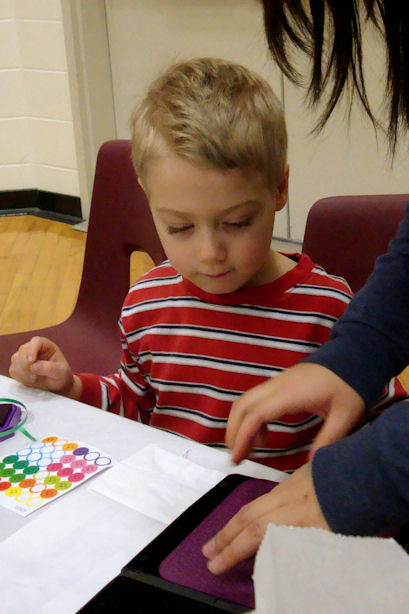 They did some crafts…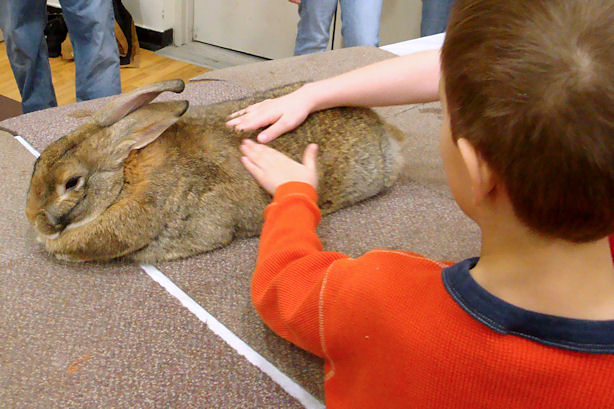 Petted the BIGGEST rabbit I've seen in my entire life…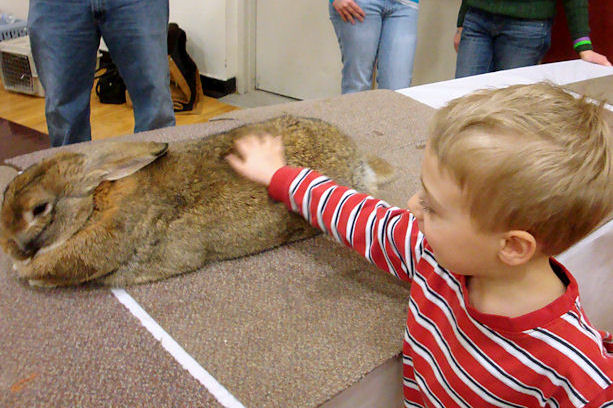 Little Guy was nervous at first, but he gave the bunny a quick pat.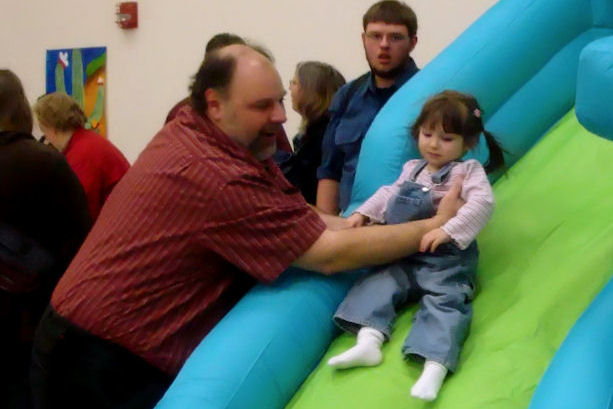 Played on the slide…
Peanut loved sliding but wasn't sure about the unfamiliar man who kept catching her on the way down.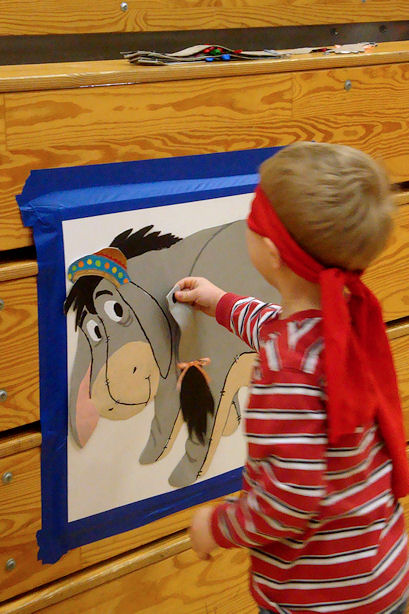 And played games.
New this year: Pin the Tail on the Burro.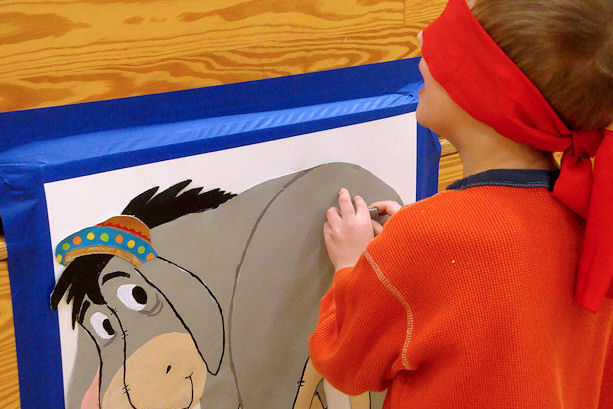 I think Z-Man is cheating a bit, but since there's no prizes it really doesn't matter.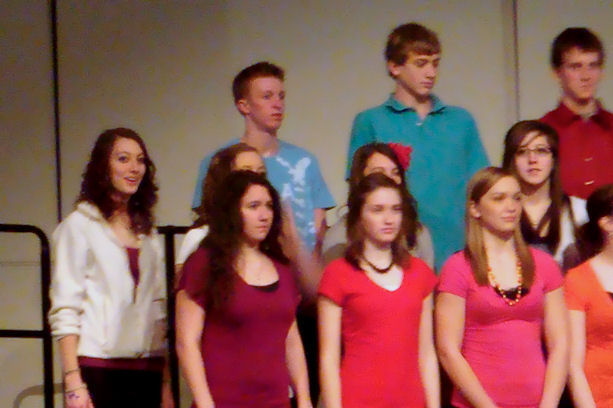 Angel Face was in both Concert Band and Concert Choir. We sat half-way back in the auditorium and so I used my point-and-shoot camera's zoom to take a photo. It's not the greatest, but it's better than the ones I got of her in band; at least here you can tell it's her!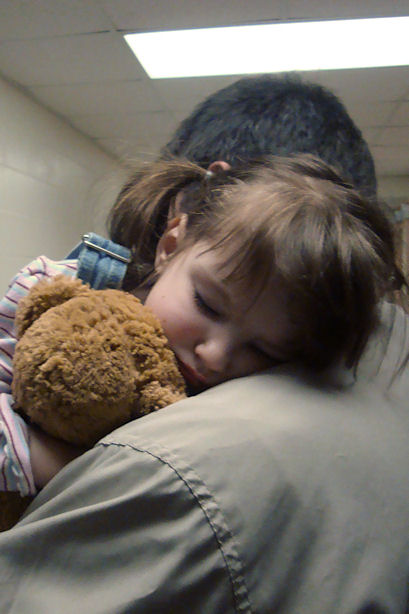 Time to head home…
It was a very long, very fun, very busy day.
I can't wait until Winterfest next year!