Want to see my new venture? I'll give you a sneak peek – just because I like you best.
It's a line of reusable products called Drumroll please…. ReUse 'Ems.
I've gotten so many people asking where they can buy my reusable snack and sandwich bags, unpaper towels, and produce bags that I thought I'd start a line of reusable products and see how they sell.
So far it's going s-l-o-w-l-y. I've got the domains: www.reuseems.com and www.reuse-ems.com, but don't bother checking them out because there's nothing there yet. I've also reserved "ReuseEms" at Etsy, but haven't had time to set anything up there.
I've also got some reusable sandwich and snack bag sets waiting for me to take photos, and list them, but I haven't had time yet. Story of my life – too much to do and not enough time. I'll bet you've got some of that going on too.
I do have a logo already – and I think it's rockin'!
Jeff from Snowfyre made it for me. Jeff is one of my favorite designers – not only does he do fantastic work, he's incredibly affordable!
Here it is – what do you think?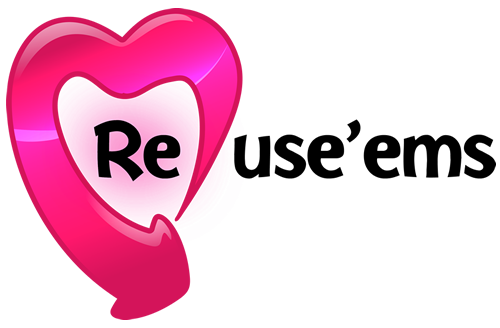 Some of the samples Jeff made for me had a super-bright green with the pink. I liked the combo so much I'm toying with using those colors in the website. I haven't decided what I want yet, which is part of the reason I still haven't started building the site.
That, and the fact that there's only 24 hours in a day – some of which I need to spend sleeping or I'll be unbearable.
Trust me – you want me to sleep!