It's Angel Face's birthday today!
In honor of her birthday I thought I'd post some photos from the past year, each with accompanying clever commentary.
It was a nice thought, and it's the thought that count, right?
The problem is that when my old laptop crashed, taking the hard drive with it, I lost a bunch of photos. Then when the hard drive on my new laptop crashed I lost even more photos. I hadn't realized how many photos I'd lost until I started looking for photos of Angel Face to post. Then I realized that the first photo I have from 2009 is dated November 11.
I started to have a panic attack when I thought about what photos were missing. Birthday parties… Soccer games… Plays and musicals… Her confirmation.. Her 8th grade graduation… Summer marching band…
Hyperventilation and heart palpitations aren't conducive to writing clever commentary, and this post is supposed to be celebrating Angel Face's birthday – not mourning lost memories.
Drying my eyes I pulled myself together and tried to think of what to do. I was raised to "make do" so finally I decided to use what I had. I put together a weird and random assortment of photos – most of which aren't even blurry! Digital telephoto is a nice idea, but in reality it often produces nothing more than a blurry mess.
Are you ready? Here we go with Random Moments in Angel Face's Life. In no particular order, of course.
Angel Face went through a phase lasting several years where she hated having her picture taken.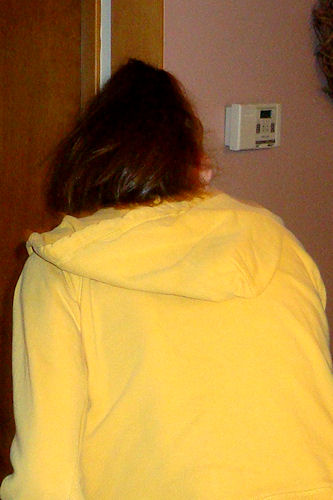 Anytime she saw me with the camera she'd duck and cover.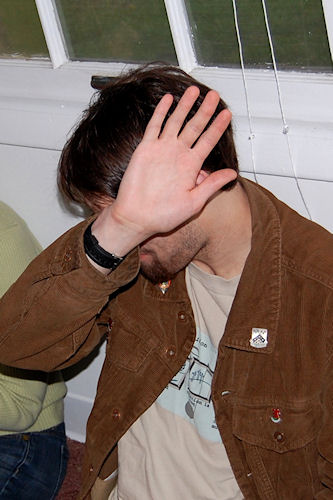 I don't have any idea where she got it from.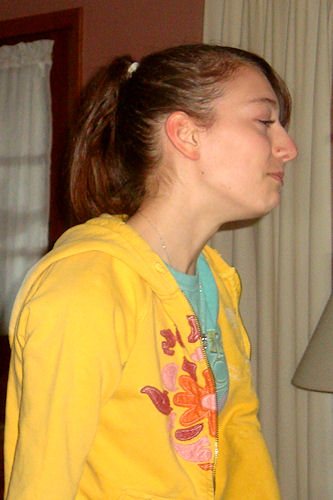 "Just smile!" I'd say. "I'm going to take the picture anyway, so you can decide if you want to look stupid, or smile and be pretty."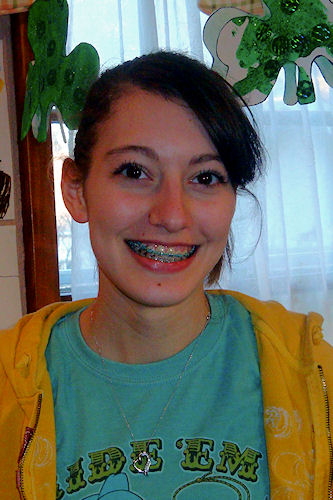 Eventually she saw the wisdom of my words or realized I'm more stubborn than a mule and smiled.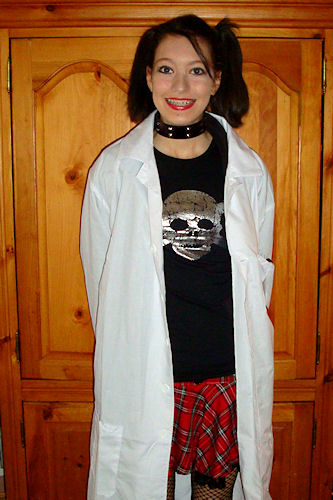 Angel Face loves dressing up and "goes all out." Whether it's Spirit Week at school, Halloween, or a themed dance you can bet she'll come up with a fantastic outfit. This Halloween she dressed up as Abby from NCIS. She is so not-Goth that it was weird to see her all Goth-ed up, but she looked great and had fun. She even took Jo-Bear and his friends Trick-or-Treating so Teacher and I could come home early with the little boys – we were all frozen!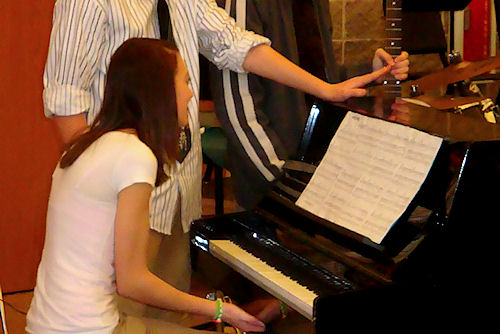 She's very musical, which is no surprise since our whole family loves music. She plays the piano – here she's accompanying her friend Mallory during Winterfest. Winterfest is the high school's annual fund raiser for the music program. Details will have to wait for another post…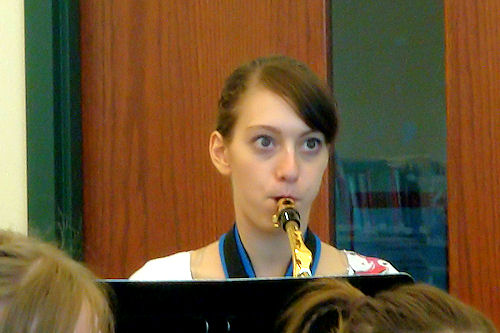 In addition to piano she plays the saxophone. She started playing alto sax in 5th grade, then switched to tenor sax in 6th or 7th. When she graduated from 8th grade she had to give back the borrowed middle school band tenor sax and to back to her alto for high school. She still misses the tenor, but her alto is much happier now.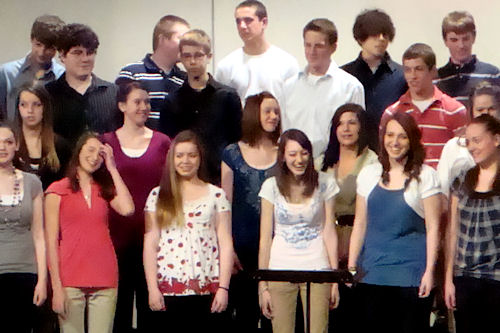 All through her school years she's sung in choir: in Children's Choir from 4th to 5th grade, then Junior Choir from 6th to 8th grade, and now Freshman Choir in high school. I'm curious to see where her audition places her for next year. Apparently she cracks up in the choir too. What's so funny, Angel Face?
The girl two to the left of Angel Face, in the reddish shirt, is Mallory. We've called them "the twins separated at birth" for years. From the back you can't tell them apart, which is embarrassing for a mother to admit.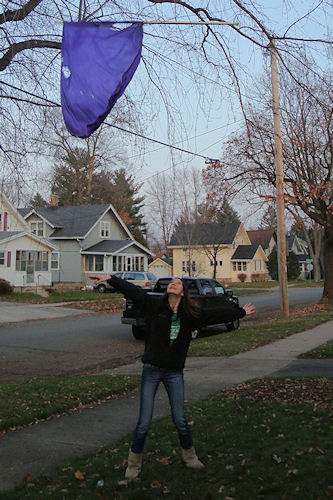 Angel Face played her sax in summer marching band, but when it was time for high school marching band she decided to follow in her sister and mother's footsteps and join color guard. I am proud to say that she's almost as good as I was.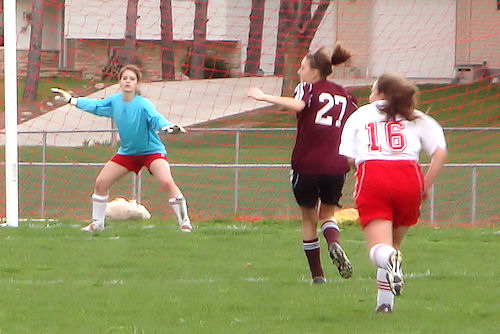 She followed in her big brother and father's footsteps, playing rec soccer since she was 8 or 9. This year she's on the high school JV team, and…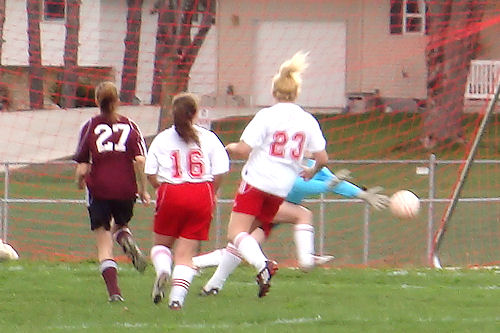 SCORE! She made the first goal of their second game!
Sometimes I look at her when she's not noticing and I wonder how we ever ended up with such a wonderful girl. Then I look at her dad and I know – she takes after him.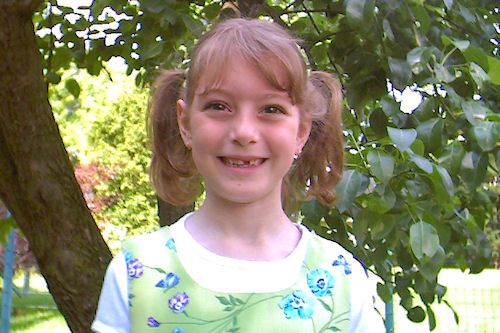 Happy Birthday Angel Face! We're so very proud of who you are and love you so very much!