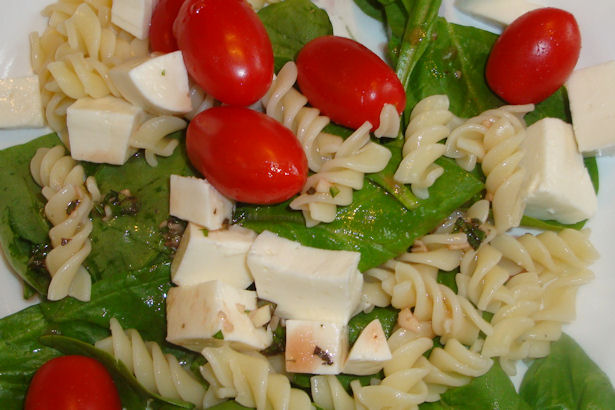 During the summer Teacher and I try to eat both lighter and healthier, so salads are a natural choice. The kids aren't as thrilled about it, but we try to find salads with ingredients that they'll like. College Boy calls salad "Rabbit Food" although he will eat a polite amount… then order pizza later in the evening!
This spinach pasta salad is not only healthy, but has something in it that everyone in our family will eat – always a plus!
Healthy Spinach Pasta Salad
This is a super-easy recipe: all you need is spinach, tomatoes, fresh mozzarella cheese, and pasta. You can use your own Italian dressing, or make one "from scratch" like we did.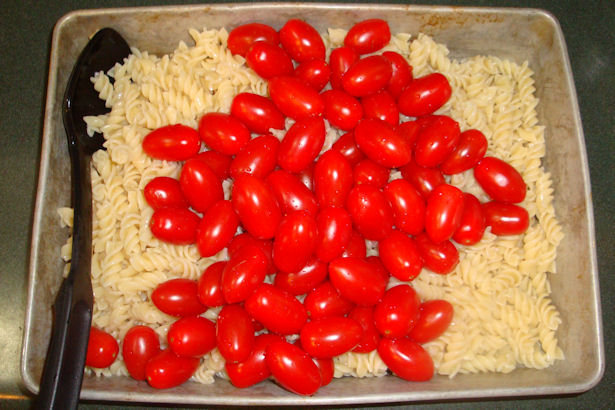 We were cooking for all 11 of us, so you'll probably want to cut down the amounts. Cook up a package of pasta according to the directions. I wanted to use whole grain pasta, but knew the kids wouldn't eat it so we used organic "white" pasta instead. After draining, rinse the pasta in cold water to stop it from cooking. Drain well and place into a large bowl or 9×13 pan to mix the ingredients.
Rinse about 2 pints of tomatoes and drain. It was early in the season so we used grape tomatoes, but once they're available I'll use yellow pear, yellow, orange or heirloom cherry, or any other type of tomato that catches my eye at the farmer's market. If I'm lucky I may even get enough tomatoes from our garden to use in the salad!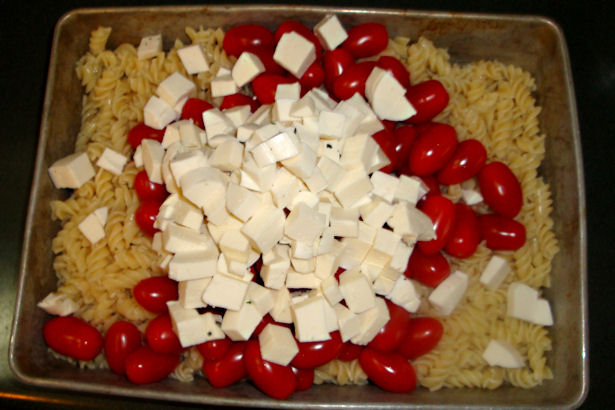 Cube 4 – 6 ounces of fresh mozzarella cheese and add to the pasta and tomatoes.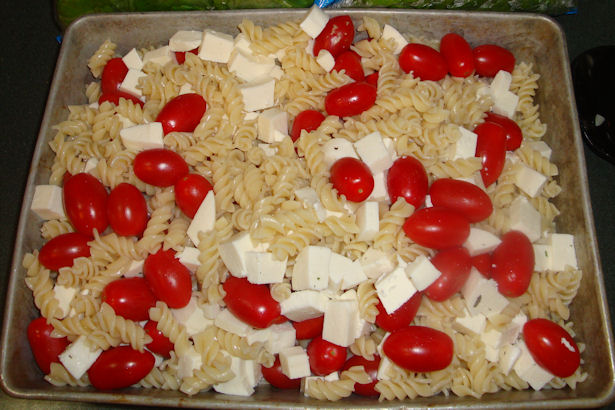 Mix well. You can add the spinach now, but because it's so big and flat it never seems to mix well with the pasta and tomatoes. I prefer to lay down a bed of spinach and spoon the pasta mixture on top.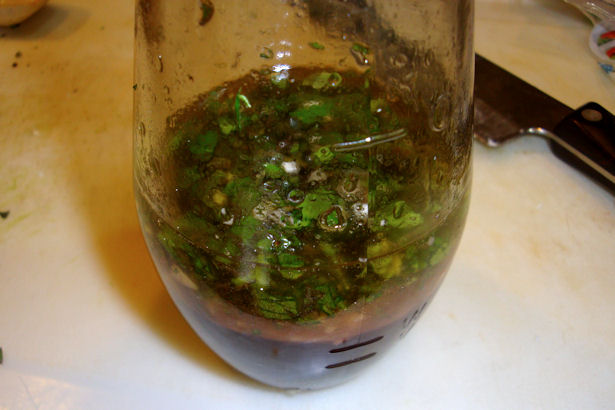 Use your favorite Italian dressing I'm partial to Paul Newman's Tuscan Italian, or whisk together:
1/4 C red wine vinegar
2 Tbsp chopped fresh curly or flat-leaf parsley
1 Tbsp fresh oregano leaves
2 Tbsp extra-virgin olive oil
2 cloves garlic, minced
Salt and pepper to taste
Some people mix the dressing right into the salad, but we've learned that our picky eaters will do much better if we keep several components separate and let them put together their own salad.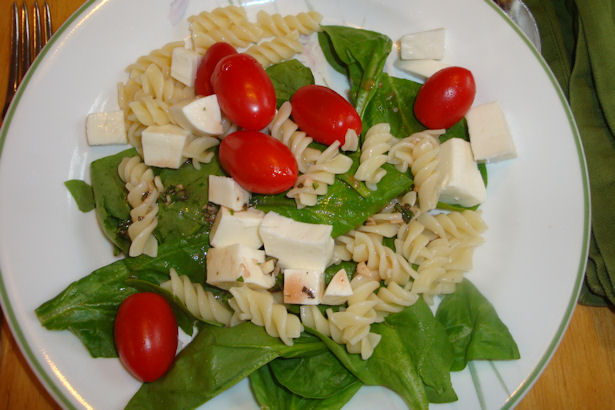 Doesn't that look yummy – and healthy?!
Like most of my favorite recipes, this one can be personalized any way you want. You could use another shape of pasta, a different cheese, substitute other veggies, add fresh herbs basil or oregano would be nice – or whatever else you like!
Happy – and healthy – eating!