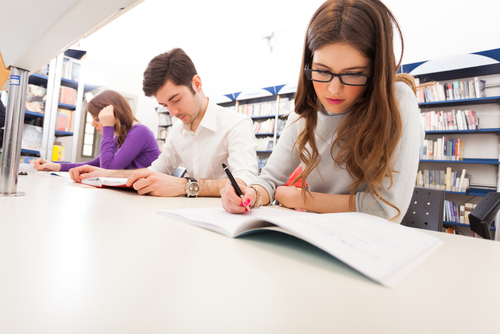 Between juggling school, homework, extracurricular activities and dating, you can certainly recall what it was like being a teenager. Indeed, it was a stressful time in your life. But now that you have a teenager of your own, you'll want to impart some wisdom on your son or daughter to make this phase of their life a little easier to manage.
According to a recent American Psychological Association report, the average U.S. teen experiences higher levels of stress compared to what they believe to be healthy, while more than half of those surveyed, ages 13-17, felt that stress affected their physical or mental health.Â
Despite whether teens recognize what undue stress can do to their bodies — both mentally and physically — this debilitating condition does have major implications on their overall health. Here are some healthy coping strategies you can impart on your teen to help them better manage their stressors.
Be a Good Role Model
One of the best ways to help your teen succeed in life is to model positive, healthy behavior. When you're feeling stressed at work or at home, don't be afraid to talk about it with your family. Tell them how you're feeling and then show them how you're dealing with it. Invite your teen to a yoga session with you, or read a book on the couch at the end of a long day. Your kids pay attention to how you handle everyday life situations, even when it seems like they're not. With that in mind, be sure to show them you take managing stress and mental health seriously.
Enforce Healthy Habits
Stress can be hard on your teen's body and lead to other problems. That's why living a healthy lifestyle not only helps avoid physical ailments, but it can also help lessen stress. Exercise is one of the best ways to relieve stress, because it releases endorphins and helps clear your mind. In that vein, encourage your teen to take part in one or several physical activities, like swimming, running, hiking or skateboarding.
Your teen's diet and sleep patterns also are important factors in limiting stress. Lack of sleep can cause irritability, moodiness and other problems, which can be compounded by stress. Help them manage their time so they can get a full eight to nine hours of sleep every night — not just on the weekend.Â
You also can help control their diet by packing a healthy lunch and eating a nutritious dinner together as a family. Teach your teen how to cook lean protein and the importance of eating their fruits and veggies, so they get into a routine and start enjoying this type of healthy intake.
Break Down Stressful Tasks
If your teen is stressed about a big task, such as studying for the SATs or applying to college, help them break it down into smaller, more manageable tasks. You might want to sign them up for an SAT prep course well ahead of the exam date to ensure they're prepared. Likewise, help them devise a study plan that fits around their homework and extracurricular activity schedule. The same process could be used to prepare to get their drivers license. Set aside time to help them study for the written part of the test with online practice tests, and then spend enough time driving with them in different parts of town and in all kinds of weather.
For college applications, help your teen tackle each part one at a time. In fact, you may want to set aside one or several days to manage different parts of your teen's application. Then, spend some together formulating ideas to help them write their personal essay or fill out other specific portions of the application.
By showing your teen each smaller task within the confines of the overall task is doable, the process will inevitably seem less stressful. Plus, this will also give your teen the skills they need to solve problems and better manage their time in the future.
Talk it Out
Finally, don't neglect the positive effects of talking through a stressful situation. Make sure your teen knows you're there to listen to their problems and help them find solutions. If they don't want to talk to you or don't feel comfortable sharing these personal details — let them know this is OK, too — suggest they speak with a teacher, school counselor or therapist.
Sometimes kids need an objective third party to help them figure out why they're so stressed or how to solve a problem. This also goes back to the first tip of modeling good behavior. If you talk to your kids, spouse and other trusted people about your own stress, your teen will feel more comfortable doing so as well.
Helping our teens deal with stress is more important now that it's Back to School time again! I hope these ideas help you and your teen have a low-stress school year.