Like most parents, I struggle with getting my kids to do chores and am always looking for new ideas to try. Since we have different chore expectations for summer and the school year I end up making at least two chore charts for the kids each year: one for summer and one for school.
This summer I found a great Chore Jar idea using color-coded tongue depressors. Anything color-coded gets my juices flowing!
I loved the basic idea, but didn't want to mess with tongue depressors and didn't have a good place to store a chore jar. Our chore charts have always been posted on a wall by the basement steps, where they're easily accessible but not out in plain sight all the time.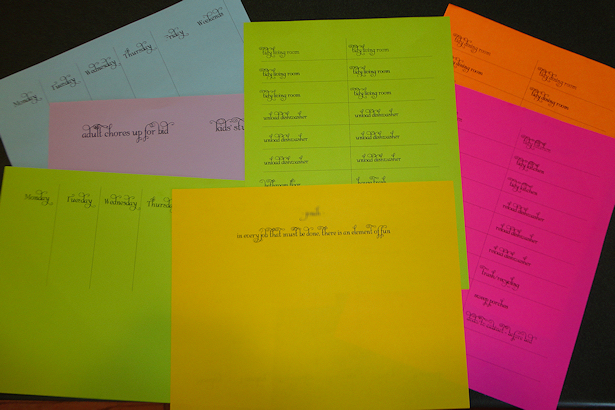 I decided to replicate the tongue depressor idea with paper strips. Color coded of course! And instead of a common chore jar for all the children to pick from I created a pocket chart for each child's chores.
I keep many different colors of printer paper on hand for child care portfolios, so each child could pick one color for their chore tickets and another color for their pocket chart.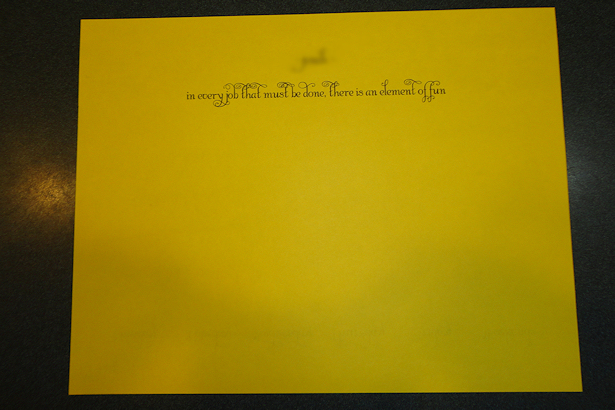 I printed each child's name and "in every job that must be done there is an element of fun" from Mary Poppins at the top of each child's pocket chart.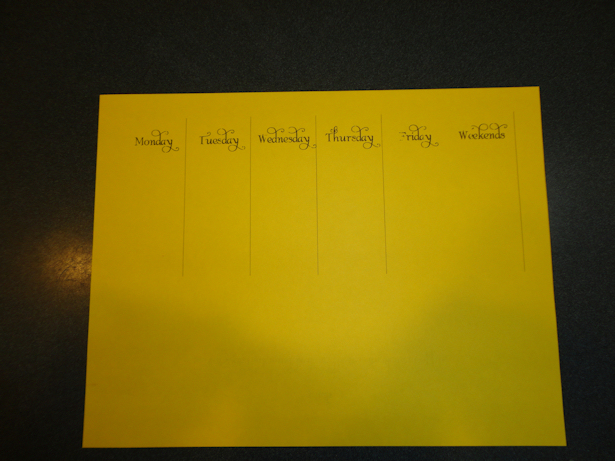 Then I made six columns and labelled them for each day of the week, and "Weekends." In our house it doesn't matter if weekend chores are done on Saturday or Sunday, but you can make separate columns if you want.
I printed the columns on the back side of the paper opposite the name and Mary Poppins phrase, so when the paper is folded both sets of printing can be seen at once. Our printer was running out of ink so it didn't print the best, but I wanted to get the kids chore charts done NOW so I didn't wait to get more ink.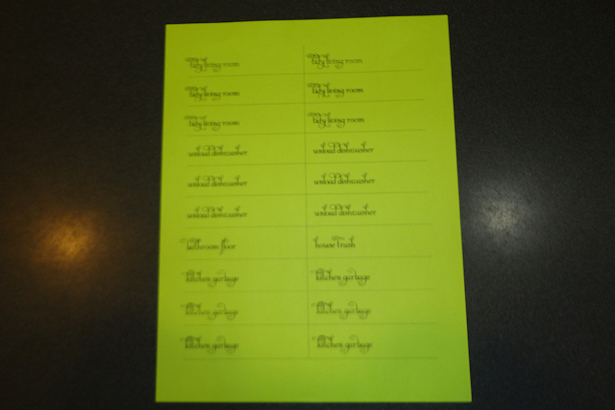 I made the chore strips next; leaving the lines so I'd know where to cut the strips apart. I made some blank strips to have on hand for extra chores or to replace a lost or ruined strip.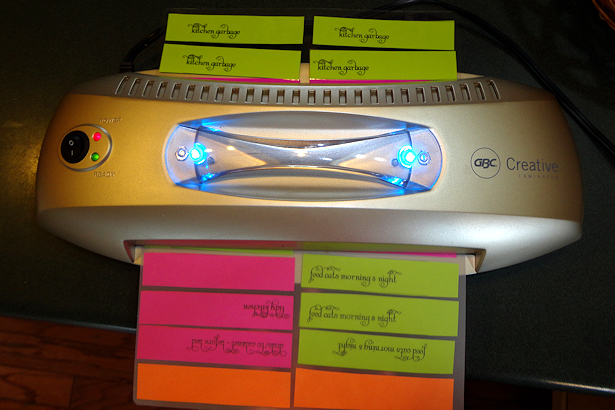 After printing all the pocket charts and chore strips I cut the strips apart and laminated everything.
If you don't have a laminator you could print onto heavy card stock or use clear contact paper. You could also have your papers laminated at an office supply store, but they probably won't be happy with all the individual strips.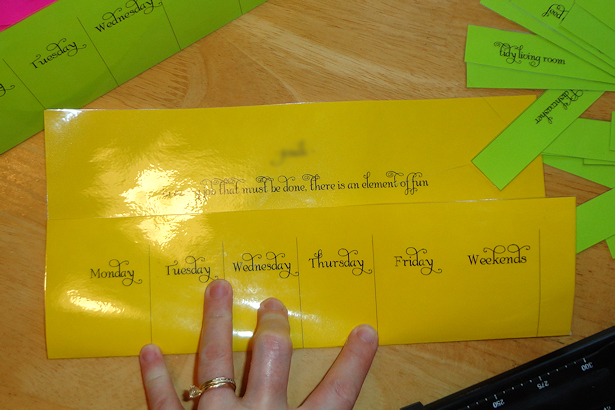 To assemble the pocket chart I folded the column side of the paper up so the edge of the paper was underneath the Mary Poppins phrase. Since the laminating was stiff I used my thumbnail to give the fold a good crease.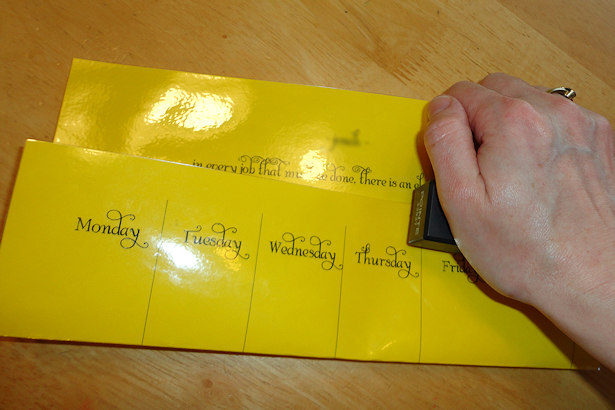 Then I stapled along the column lines to make 6 pockets.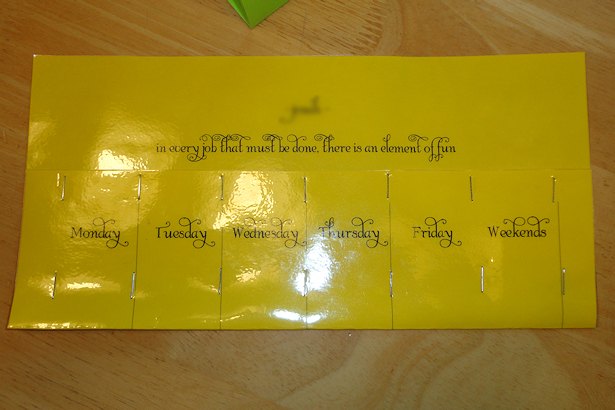 It's not perfect, but the first pocket chart is done!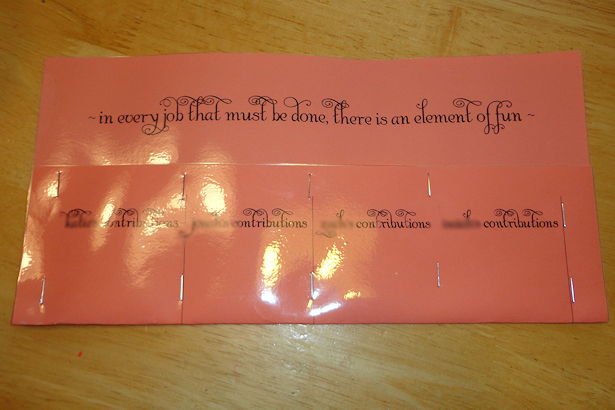 I made another pocket chart for the kids to put their completed chore slips in. Each child has a labelled pocket for their slips so I can see at a glance who's keeping up and who's slacking.
Love & Logic suggests calling chores "contributions to the family" to put them in a more positive light. It's a hard habit to break, but we're working on it.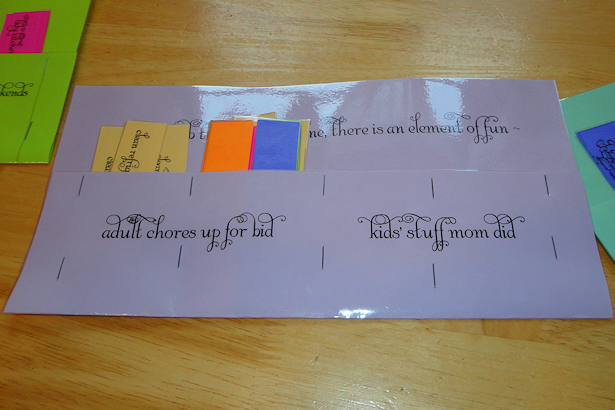 It's kind of obvious what this pocket chart is for. If the kids forget a chore and I have to do it I put the slip in my pocket. Then they have to pay me back with another chore, a toy, or money.
If the kids want to earn extra money they offer to do adult chores for pay. The left side of the pocket holds chores that Teacher and I are willing to pay the kids to do for us; like clean out the refrigerator or reorganize and wipe out the pantry. On the right side are extra slips we can write more chores on our color is cream or record extra chores the kids did on their colored slips.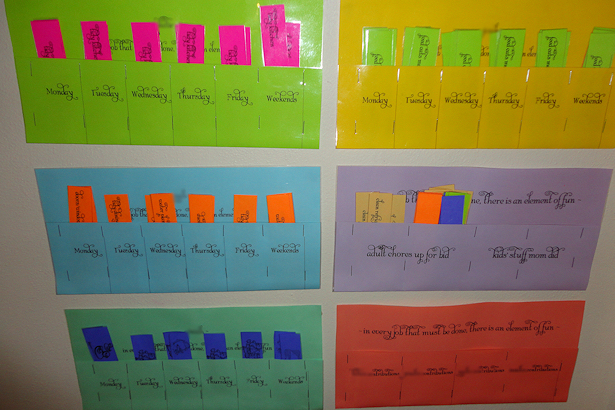 And here's the final product!
Top left: Angel Face
Middle left: Z-Man
Bottom left: Little Guy Since he can't read yet I put clipart representing his chores next to the words on his slips
Top right: Jo-Bear
Middle right: Chores up for bid and Chores Mom did
Bottom right: Chores the kids did. I mean CONTRIBUTIONS the kids made. Hard habit…
Does it work? Well, I spend much less time nagging the kids to do their chores but more time figuring out allowances. That's fine with me, as long as chores get done.
How do you get your kids to do their chores? Do you have a kids chore chart, or another system?