Some things you should know before you read this post:
1. My taste is usually the opposite of Teacher's
2. I'm not very fond of change
3. "Compromise" means you do things my way
4. I have caviar taste but a tuna fish budget
5. I'm terrible at making decisions
With these things in mind you can imagine how much fun it was when Teacher and I decided we had to do something about our poor, run-down, used and abused love seats.
The love seats were first purchased by my parents the same year Teacher and I were married. They the love seats, not my parents started out in my parents' living room – a room which also housed our piano, a record player < — linky for those of you too young to know what a record player is and a couple of end tables. The room should have been referred to by the old-fashioned name, "Sitting Room," because it was mainly used for obligatory piano practice my parents' after-work cup of coffee and newspaper time.
About seven years ago the love seats entered our crazy household when my parents bought a new couch and gave the love seats to us. Freshly cleaned, Scotch-Guarded, Amish-made, and barely used, they were in almost-new condition.
Sadly, that didn't last long.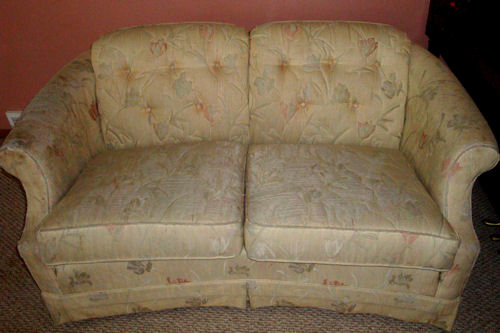 My mom thinks it was the cleaner's use of water-based solution instead of the solvent-only solution called for on the care tags that did it…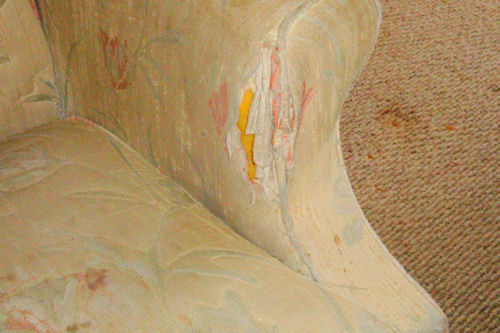 I think it was the endless parade of daycare children and constant use and abuse by our active family that was the cause – after just four years in our household the fabric began to shred.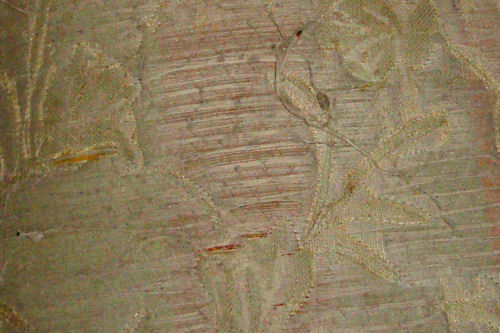 One day the button on the back pocket of my jeans got so tangled in a cushion's loose threads that I couldn't stand up until Teacher cut me loose. Actually, I could stand up but I'd have a cushion attached to my butt. I chose to stay seated until I was rescued. That weekend we purchased duvet covers to throw over the love seats so they wouldn't try to eat unsuspecting guests.
In the usual way of things, the days flew by so quickly that we didn't have time to do anything more about the love seats for over a year – except for the fluffing, folding, rearranging, tucking and fussing I did with the duvet covers innumerable times a day.
Finally, fed up with those duvet covers, I decided it was time to do something about the love seats NOW! We couldn't afford to buy new ones, and everything except the fabric was in such excellent shape that we didn't want to throw them out, so we decided to reupholster. Following a friend's recommendation I found a guy who used to work for a big upholstery company. His price was half of what the other companies quoted me, all we had to do was find fabric.
This is where things get interesting – remember the list at the top of the page? We started out at JoAnns, and it didn't take long for us to realize that the pictures in our heads were vastly different. When I say our tastes are different I'm not exaggerating; it took Teacher and me three years of looking to agree on a comforter! For the love seats Teacher was imagining a fabric with a definite pattern and some depth. I was picturing something neutral, with a small pattern that would disappear when you unfocused your eyes. Neither JoAnns or Hancock had anything to make our hearts go pitty-pat so we decided to check out the place suggested by Brook, aka "the upholstery guy."
After a 45 min drive we found the place – a huge warehouse-style building surrounded by cornfields and nothing else. Inside it looked like an overstock sale married a flea market; a huge variety of unrelated items – maybe leftovers from other discount stores – were displayed helter-skelter on the shelves. I didnt' think that we'd find what we were looking for until I saw two rows of triangular shelves displaying roll after roll of upholstery fabric.
Hooray!
None of the fabrics had a content or care label, just a price tag, so Teacher and I had to rely on our instincts. Starting on one end of the first row we methodically unwrapped a corner of each roll to see if we liked the look of it. If we did we'd unroll it further to check the feel, thickness and durability of the fabric. Eventually we narrowed our choices down to three fabrics: a bold silver and purple floral, a multicolored design of intertwined leaves, and heathered greenish tan.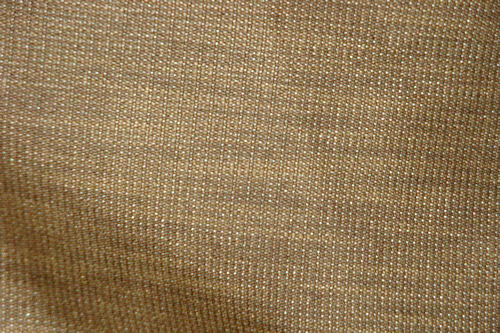 After a surprisingly short debate we decided on the greenish tan. Not only did we both like it a lot, it seemed the most durable – and it was only $5/yard! At home we draped the fabric over one of the love seats and knew we'd made a good choice.
Not only was Brook aka "the upholstery guy" inexpensive, he was FAST too! He picked up the love seats Wednesday and returned them the following Monday. He Scotch-Guarded them for free, and gave us the rest of the bottle to maintain the protection. Can't beat that customer service!
Want to see the finished love seats?
Drumroll please…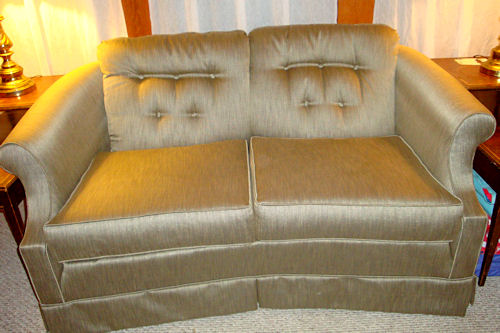 Ta-da!
Brook said the fabric was actually indoor/outdoor fabric and would definitely hold up to the wear and tear of the daycare and our family. He also said that if we'd gotten it retail it could have cost as much as $30/yard. Score!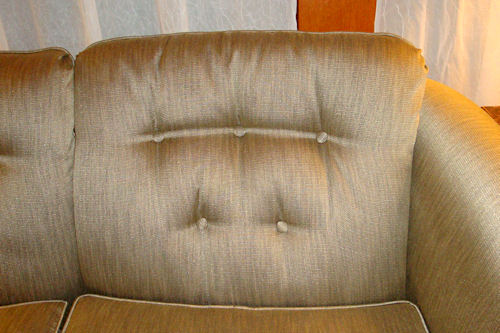 The fabric has absolutely NO give to it so we don't have to worry about it stretching and getting saggy – unless the cushions deteriorate. Knock on wood that they'll hold up another twenty-some years!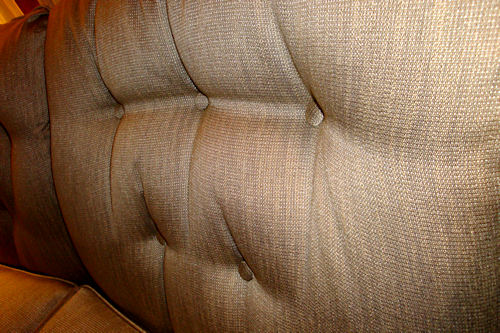 The fabric feels kind of silky and smooth – not too fuzzy hot for the summer but not too slippery cold for the winter.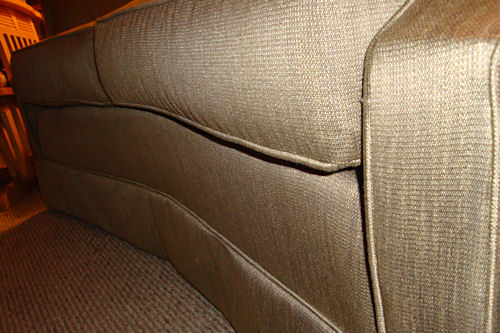 And the bonus? There's nothing under or behind the couches right now!
How long do you think that'll last?