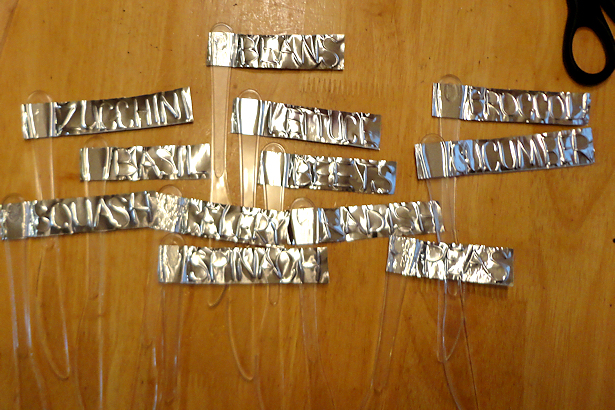 A couple of months ago I developed a new obsession: Pinterest.
Ohmygoodness did I fall in love! Pinterest is all about pretty pictures and short descriptions – in other words it's an ADOS girl's dream. ADOS = Attention Deficit… Oh Shiny!
It wasn't long before I had a nice Pin collection started – nothing as grandiose as some Pinners' collections, but a respectable number of Pins that I'm regularly adding to. And, unlike the motley collection of pages ripped from magazines and stuffed into random places for later filing and retrieval but eventually tossed into the recycling bin without another glance, I'm actually using my Pins.
Maybe that doesn't float your boat, but I think it's pretty exciting.
The most recent Pin I tried was Fun with Adhesive: Aluminum Duct Tape Plant Markers from Aunt Peaches blog. Warning, Aunt Peaches used a four-letter word you may not want your kiddos reading over your shoulder.
When I first saw the Pin I thought the plant markers were cute, but not necessary for me because last year I discovered Grow Veg, an online garden planner that helps you plan your garden. Grow Veg has ton of helpful features, like how much space each plant needs, when to plant, which plants you can plant near each other and which to separate, etc. It also keeps track of what you plant from year to year so you can practice crop rotation.
After I planted my garden I realized that once again I was wrong – I really did need plant markers! I kept forgetting what I planted where, and although I can recognize plants once they're several inches tall, I'm never sure when they're seedlings. Sure, I could look it up in Grow Veg but it's a pain to load it up every time I work in the garden.
A couple of weeks ago when Teacher and I were running errands we picked up some aluminum duct tape and plastic knives so I could try my hand at making plant markers. I really wanted pretty colored knives like Aunt Peach has, but the store we went to only had full place settings in fun colors and I didn't want a bunch of extra plastic forks and spoons we didn't need.
Making the plant markers was just as easy as Aunt Peach described – so easy that I had my plant markers done before I thought to take step-by-step photos. Besides, I don't think it's cool to make a tutorial based on another person's tutorial unless I trial-and-error my way to some important tips I think you need to know, or I change the original tutorial substantially… Neither of which is the case here.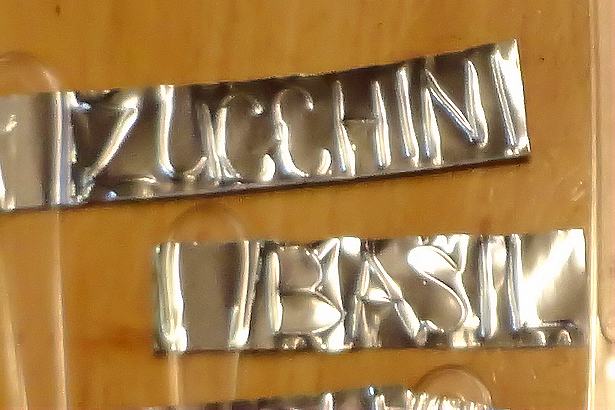 To make my aluminum duct tape plant markers I cut the duct tape into about 6″ lengths then cut each piece the long way so I had a long, skinny piece of tape. I folded the tape around the knife handle and pressed the sticky sides together. I learned that you need to line up the tape at the end – not the fold – if your knife handle tapers.
To give the plant marker an embossed look I wrote the plant's name BACKWARDS on the back side of the tape. Aunt Peach said to use a dull ball point pen to write on the tape, but I didn't have a dull one so I used a regular one. It worked out just fine.
You can practice writing backwards so your letters look pretty, but I just winged it like because I wanted my lettering to be a bit wonky. I figured I'd never get them all pretty and perfect so I may as well make them wonky on purpose.
My only disappointment is that my plant markers aren't as sheltered as Aunt Peach's, so the tape bends when it's windy out. I'm still trying to figure out how to fix that, but haven't figured it out yet. Let me know if you have any suggestions – I've got extra plastic knives and tons of aluminum duct tape, and am game to try your ideas!
Are you a gardener? How do you mark your plants?