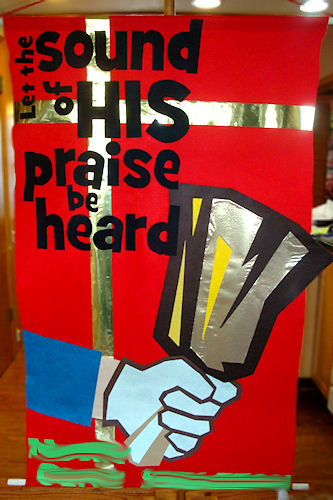 I've directed the handbell choir at our church since it began in 1999, but this is the first year we're going to Festival.
In the past we hadn't gone for various reasons: not enough ringers were free that weekend, it was too far away, there wasn't enough money in the budget, not enough of the music were things I'd use repeatedly in church, etc, etc, etc.
This year Festival is being held almost in our back yard, the list of music was good enough to spend our meager budget on, and the ringers were interested in going, so we took the plunge and signed up. Over the past eight months we learned the music and performed it in church, but that wasn't the end of our preparations.
Each choir is asked to bring a 5×3′ banner, but we didn't have one. Luckily I know a handsome guy who was willing to design one for us. My husband SO rocks! After Teacher created the design we enlarged it on a SmartBoard, which is one of the coolest pieces of classroom technology I've seen in my entire life! Next I asked my mom to help me pick out fabric colors. She's and avid quilter and used to working on large quilts while I'm used to smaller projects. The church had two huge boxes of felt and banner-making supplies so the only things I had to find were the gold lame and ribbon.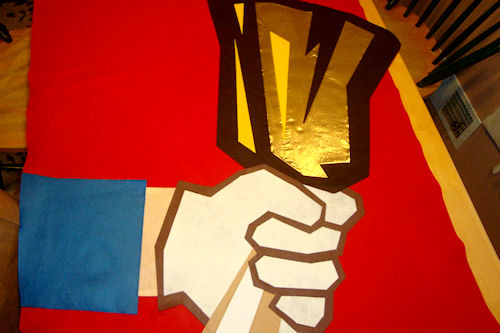 I started with the bigger elements, working from the bottom up. I'm not used to working on such a large scale but Teacher's angular style made my job easier because I could use a ruler to keep my lines straight.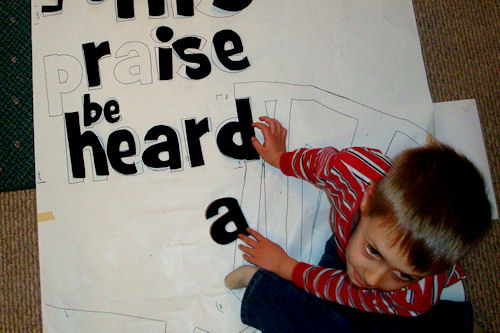 Z-Man helped make sure I didn't miss any letters by matching the felt pieces to the design. He watched me cut out each letter and was able to guess what they were before I was done – he's so smart!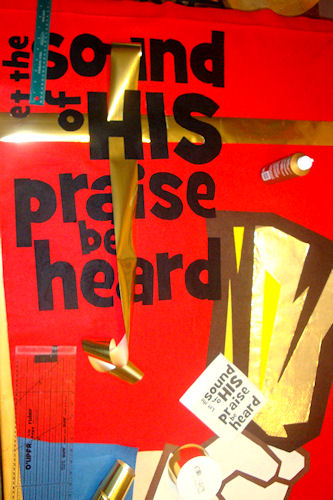 I constructed the banner the same way I do all my applique work except I didn't stitch the pieces on; I just fused them with the iron. Unfortunately, the shiny "outdoor" ribbon I'd gotten for the cross melted when it was ironed so I had to glue the ribbon and all the pieces that went on top of the ribbon. Live and learn – now I'll know if I ever make another banner!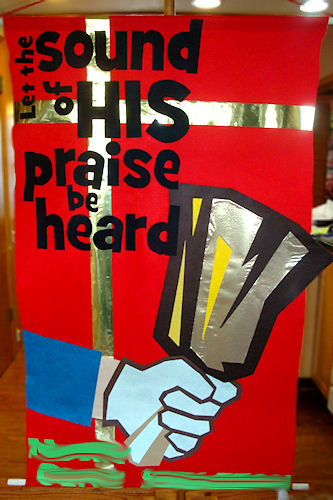 Teacher's design is simple and eye-catching, and my mom's color choices really make it "pop." I think it looks fantastic!