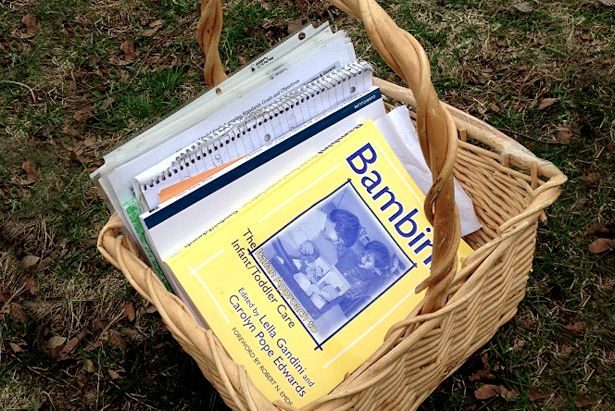 Once upon a time I had an Outside Basket. It was beautiful, sturdy, big enough to carry almost everything I wanted when we went out to play, with a handle I could hold in the crook of my elbow so my hand would be free to open doors or hold a child's hand. Best of all, the basket was part of a gift my good friend Michelle gave me when Angel Face was born, so every time I used it I remembered those happy days and my friend Michelle.
Unfortunately 18 years of use had taken its toll on the basket and despite my best efforts, it finally broke beyond repair. So I began searching for another basket.
And searching.
And searching.
It wasn't easy.
The baskets I found weren't big enough to hold a binder. Or weren't sturdy enough to carry all of my stuff. Or didn't have a handle. Or were the wrong shape. Or were too pricey. Or were just plain ugly.
Eventually I found something that would work. It was oval, wicker, and more shallow than I wanted, but big enough to hold a binder. And it had a handle. And I found it at a thrift store so it wasn't too pricey. And it wasn't too terribly ugly.
But it wasn't as sturdy as it seemed. It didn't even last a month before the handle broke and I was back to Square One: searching for a new basket. You get what you pay for, right?
Thirty-One to the rescue!
Princess and her sister-in-law, Heather, had hosted a Thirty-One party shortly after I found the replacement basket. I wasn't familiar with Thirth-One but had seen friends post about Thirty-One parties on Facebook and had checked out the website.
I wasn't impressed. I figured I could make my own purse, wallet, tote, organizer, or pretty much anything else cheaper and to my own specifications, so there was no reason to pay so much. But I went to Princess's party anyway because that's what family does and ended up ordering a wristlet. When it arrived I was pleasantly surprised by how well-made it was, but didn't plan to purchase any other Thirty-One products.
Then my basket broke and I had one of those "lightbulb moments" – you know, when you feel like a lightbulb just lit up over your head. "I wonder if Thirty-One has something that would work but not be too expensive?" I searched the website, and voilà – I found the Keep-It Caddy.
At the party we got to examine various products so I knew it would be sturdy. It was also the perfect size and the perfect shape, not terribly pricey especially when you consider that I'll use it pretty much every day, had strong handles, and wasn't ugly. Of course I had to order it in purple.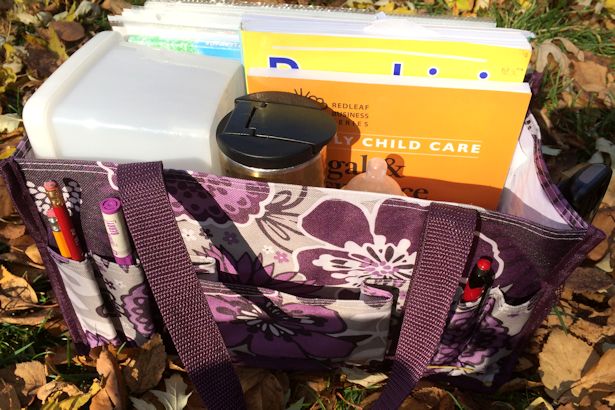 It's more perfect than I thought it would be! Not only does it hold everything I usually take outside, it has pockets so I can ORGANIZE my stuff. You know how much I love to organize – it's practically an addiction!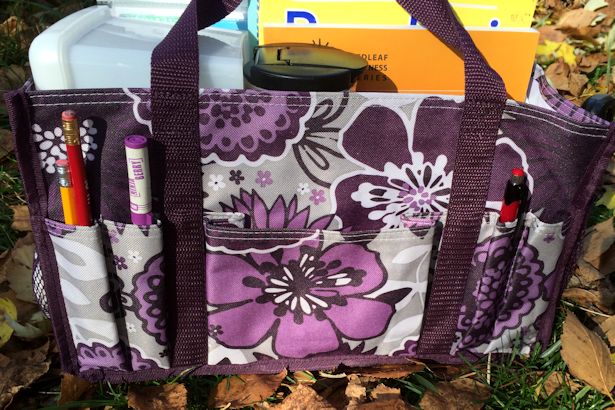 The front has a pocket in the middle and places for pens and pencils on each side. I didn't put anything in the middle pocket yet, but I'm sure I'll need it for something eventually.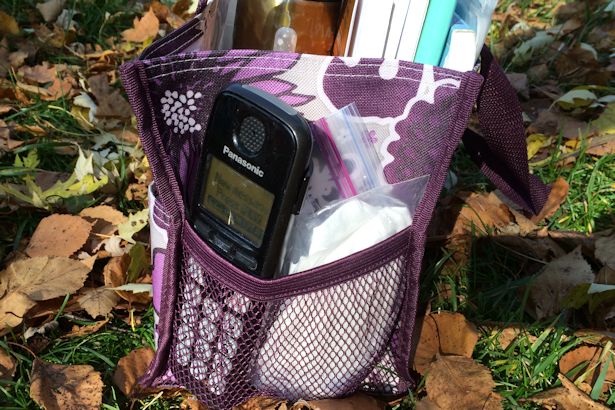 Each end of the bag has a mesh pocket. One contains a ziplock baggie of wipes for sticky hands and faces with room left over for the phone.
The other pocket holds tissues, hand lotion and lip balm – all the necessities for a couple of hours outside.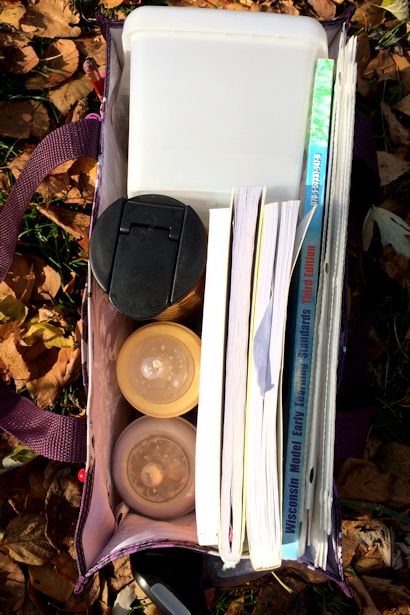 The view from the top shows how much stuff you can cram in it! It's got an empty wipes container that I use as a garbage can an idea I got from my friend Nicole, several books I'm slowly making my way through, the WMELS book I refer to when doing documentation outside, my latte, and a bottle for each baby in case they get hungry luckily they don't mind their bottles chilled.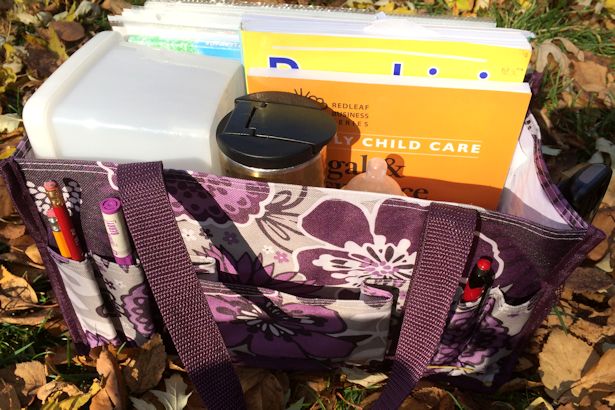 You know, I could become a Thirty-One fan after all…